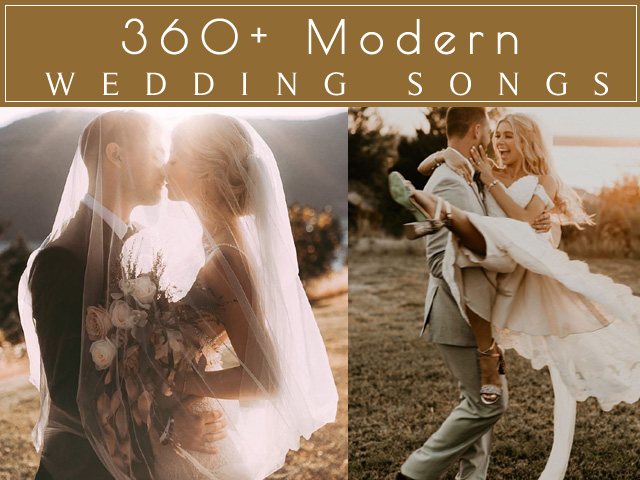 Getting Ready Songs
Getting ready for your wedding is about more than fixing your hair and stepping into your outfit. It's a time of excitement and anticipation, and should it be enjoyed with friends, family, and a playlist of fun songs. Below is a roundup of tunes that will start your day on a good note.
"Glamorous" by Fergie ft. Ludacris
"Angel" by Shaggy ft. Rayvon
"Single Ladies (Put a Ring on It)" by Beyoncé
"Shake It Off" by Taylor Swift
"Raise Your Glass" by Pink
"Truth Hurts" by Lizzo
"Chapel of Love" by The Dixie Cups
"Dear Future Husband" by Meghan Trainor
"Can't Hurry Love" by Diana Ross & The Supremes
"Watermelon Sugar" by Harry Styles
"I Want You To Want Me" by Letters to Cleo
"Your Love" by Nicki Minaj
"A Little Party Never Killed Nobody (All We Got)" by Fergie, GoonRock and Q-Tip
"High Horse" by Kacey Musgraves
Wedding Processional Songs
The processional is when your groomsmen, bridesmaids, flower girl, ring bearer, and parents or grandparents enter the ceremony. The bride is traditionally the last to enter, often accompanied by her father or another family member. The order of events, as well as the musical selections, are ultimately up to the couple. Your processional music can be a traditional hymn or one of your favorite pop tunes that everyone will know. The following songs are relaxed and uplifting selections that will accompany any processional beautifully.
"Canon in D" by Pachelbel
"All You Need is Love" by The Beatles
"Air" from "The Water Music" by Handel
"Neville's Waltz" by Patrick Doyle (from Harry Potter and the Goblet of Fire)
"Married Life" by Michael Giacchino (from Up)
"Hoppípolla" by Sigur Rós
"Reign of Love" by Coldplay
"Jurassic Park Theme" by Thomas Oliver (from Jurassic Park)
"Clarity" by Evan Duffy
"I'm Yours" by Vitamin String Quartet
"If I Could Fly" by One Direction
Songs to Walk Down the Aisle
Some couples may prefer to walk down the aisle to a different tune than the processional. The following wedding songs are romantic yet mellow, and are sure to make your moment special.
"The First Time Ever I Saw Your Face" by Roberta Flack
"Can't Help Falling in Love" by Haley Reinhart
"Part of Your World" by Jodi Benson (from The Little Mermaid)
"Wildest Dreams" by Duomo
"A Thousand Years" by Christina Perri
"I'm Kissing You" by Des'ree
"La Vie En Rose" by Ingrid Mapson
"Halo" by Beyoncé
"Somewhere Over the Rainbow" by Israel Kamakawiwoʻole
"Moon River" by Audrey Hepburn
"Heartbeats" by José González
Wedding Ceremony Songs
The music doesn't have to stop when you reach your fiancé at the altar. You might prefer having quiet background noise for special parts of the ceremony, like during a candle lighting or a reading. Choose from the following list to make your ceremony even more memorable.
"Ave Maria" by Schubert
"Amazing Grace" (Traditional)
"I Will" by The Beatles
"We've Only Just Begun" by The Carpenters
"Have I Told You Lately" by Van Morrison
"If Not For You" by George Harrison
"You Raise Me Up" by Josh Groban
"Ribbon in the Sky" by Stevie Wonder
"When You Say Nothing At All" by Alison Krauss
"I Choose You" by Sara Bareilles
Below you'll find a Spotify playlist of the top wedding breakfast music. We've made it so easy, you could literally just link us to a speaker and press play. Scroll down for all the song details.
I'm Yours – Jason Mraz
Kiss Me – Sixpence None the Richer
You've Got the Love – Florence + the Machine
Brown Eyed Girl – Van Morrison
Baby Love – Nicole Scherzinger
Orinoco Flow – Enya
Hey There Delilah – Plain White T's
Cannonball – Damien Rice
Heartbeats – José González
She's Always A Woman – Billy Joel
The Scientist – Coldplay
You to Me Are Everything – The Real Thing
My Guy – Mary Wells
Autumn – Paolo Nutini
Do You Remember – Jack Johnson
Songbird – Oasis
"Ode to Joy" from Symphony No. 9 in D minor, Op. 125: Choral) – Beethoven
Beating Hearts – King Charles
Big Yellow Taxi – Counting Crows & Vanessa Carlton
Eyes Wide Open – Gotye
First Day of My Life – Bright Eyes
If I Fall to Your Heart – Derwent Hannon
Mr. Bojangles – Jr. Sammy Davis
Supposed to Be – Jack Johnson
Upside Down – Jack Johnson
Valerie – Amy Winehouse
(Sittin' On) the Dock of the Bay – Otis Redding
Angel – Jack Johnson
Banana Pancakes – Jack Johnson
Be Young, Be Foolish, Be Happy – The Tams
California Dreamin' – The Mamas & The Papas
Cats and Dogs – The Head and the Heart
Coco Chitty – King Charles
Fast Car – Tracy Chapman
Good Riddance – Green Day
Lights Out, Words Gone – Bombay Bicycle Club
Big Parade – The Lumineers
How Can You Swallow So Much Sleep – Bombay Bicycle Club
If It's the Beaches – The Avett Brothers
Souls Like the Wheels – The Avett Brothers
The Blower's Daughter – Damien Rice
White Winter Hymnal – Fleet Foxes
Last Night On Earth – Green Day
Unbroken – Tim McGraw
Will You Still Love Me Tomorrow – Amy Winehouse
Wedding Recessional Songs
Once the ceremony is complete, the newlyweds will exit the altar area, followed by the wedding party and guests. This is an excellent opportunity to play an upbeat song to celebrate the occasion and prepare guests for your reception. The suggestions below are great wedding exit songs to suit any type of ceremony.
"Home" by Edward Sharpe & the Magnetic Zeros
"Can't Take My Eyes Off of You" by Frankie Valli
"Happy Together" by The Turtles
"Life's a Happy Song" by Amy Adams, Jason Segel, Chris Cooper (from The Muppets)
"Signed, Sealed, Delivered" by Stevie Wonder
"I Got You (At The End of the Century)" by Wilco
"Dog Days Are Over" by Florence + The Machine
"Wouldn't it Be Nice" by The Beach Boys
"Ain't No Mountain High Enough" by Marvin Gaye and Tammi Terrell
"Everything is Awesome" by Tegan and Sara (from The Lego Movie)
Wedding Party Entrance Songs
After the ceremony, guests will enter the reception area and wait for the couple and the wedding party to make their big entrance. The wedding party entrance song should be high energy, as it marks the beginning of the reception. Some groups choose to walk in to funny songs, while others might show off a choreographed routine on the way to their seats. However your wedding party enters the reception, the following songs will get everyone ready for the night.
"Marry You" by Bruno Mars
"I Gotta Feeling" by The Black Eyed Peas
"Dynamite" Taio Cruz
"Shut Up and Dance" by Walk The Moon
"Levels" by Avicii
"Good Life" by Kanye West ft. T-Pain
"Club Can't Handle Me" by Flo Rida ft. David Guetta
"I Believe in a Thing Called Love" by The Darkness
"Can't Stop The Feeling!" by Justin Timberlake
"I Wanna Dance With Somebody (Who Loves Me)" by Whitney Houston
Wedding Entrance Songs
You don't have to enter your reception to the same tune as your wedding party. Consider choosing your own reception entrance song for a memorable moment. This wedding song can be romantic and fun, or outrageous and goofy — it can really set the tone for the rest of your wedding reception songs. You may want to consider walking in to a favorite song that is special in your relationship.
"Just the Way You Are" by Bruno Mars"Heroes (We Could Be)" by Alesso ft. Tove Lo
"Beautiful Day" by U2
"Crazy in Love" by Beyoncé ft. Jay-Z
"Forever" by Chris Brown
"We Found Love" by Rihanna ft. Calvin Harris
"Happy" by Pharrell Williams
"First Date" by Blink 182
"On Top of the World" by Imagine Dragons
"Best Day of My Life" by American Authors
Wedding Cake Cutting Songs
Some couples cut the cake at the start of the reception so the photographer can get a great shot before leaving for the evening, while others choose to do it immediately after dinner. Whenever you choose to dig into your dessert, you'll want to pick a fun cake-cutting song that suits the "sweet" occasion.
"Sweetest Thing" by U2
"How Sweet It Is (To Be Loved By You)" by Marvin Gaye
"Cake by the Ocean" by DNCE
"Sugar, Sugar" by The Archies
"Pour Some Sugar On Me" by Def Leppard
"Sugar" by Maroon 5
"I Can't Help Myself (Sugar Pie, Honey Bunch)" by The Four Tops
"Candyman" by Christina Aguilera
"Sweet Child O' Mine" by Guns N' Roses
"Honey Bee" by Blake Shelton
"Sugar" by Flo Rida ft. Wynter
First Dance Wedding Songs
The first dance can occur at the start of the reception, immediately after the newlyweds are introduced, or after dinner to kick off the rest of the dancing. It's important to choose a song that's personal and sentimental—there are no rules when it comes to first dance wedding songs. Whether you and your S.O. are performing a choreographed routine or you're planning something a bit more natural, the the first dance song you choose should be one feels thoughtful.
"The Power of Love" by Céline Dion.
"Thinking Out Loud" by Ed Sheeran
"At Last" by Etta James
"From the Ground Up" by Dan + Shay
"The Luckiest" by Ben Folds
"(I've Had) The Time of My Life" by Bill Medley and Jennifer Warnes
"All of Me" by John Legend
"The Book of Love" by Peter Gabriel
"Sea of Love" by Cat Power
"The First Day of My Life" by Bright Eyes
Feel So Close" by Calvin Harris
Last Dance Songs
Last dance songs are the ones that end your wedding reception on a high. Grandparents might have sloped off to bed early, but for the majority of your wedding guests, this is their final chance to shake their stuff on the dance floor, celebrate the best day ever with you and give the newlyweds a perfect send-off.
(I've Had) The Time of My Life – Bill Medley & Jennifer Warnes
Never Forget – Take That
Don't Stop Me Now – Queen
I'm Gonna Be (500 Miles) – The Proclaimers
How Sweet It Is (To Be Loved By You) – Marvin Gaye
All You Need Is Love – The Beatles
Ain't No Mountain High Enough – Diana Ross & The Supremes
Bohemian Rhapsody – Queen
Sweet Caroline – Neil Diamond
Don't Stop Believin' – Journey
Daydream Believer – The Monkees
Thinking Out Loud – Ed Sheeran
Walking On Sunshine – Katrina & The Waves
How Long Will I Love You – Ellie Goulding
Make You Feel My Love – Adele
This Kind of Love – Sister Hazel
At Last – Etta James
Champagne Supernova – Oasis
God Only Knows – The Beach Boys
Hey Jude – The Beatles
History – One Direction
Good Riddance – Green Day
Just Be – Paloma Faith
She's Always A Woman – Billy Joel
Thank You for the Music – ABBA
Under Heaven's Skies – Collective Soul
A Groovy Kind of Love – Phil Collins
Ain't Nothing Like the Real Thing – Marvin Gaye & Tammi Terrell
Beneath Your Beautiful – Labrinth & Emeli Sandé
Every Day I Love You – Boyzone
The Edge of Glory – Lady GaGa
All My Life – K-Ci & JoJo
Angels – Robbie Williams
Celebration – Kool & the Gang
Night Time Is The Right Time – Ray Charles
Two Hearts – Phil Collins
Winter Winds – Mumford & Sons
Here Comes the Bride (Wedding Version) – Dannie Marie
Lucky Man (Happiness More Or Less) – The Verve
Piano Man – Billy Joel
Stand By Me – Ben E. King
Sweet Louise – Passenger
This Guy's In Love With You – Herb Alpert & The Tijuana Brass
Waiting for Tonight – Jennifer Lopez
What Are Words – Chris Medina
Father-Daughter Wedding Songs
The father-daughter dance is one of the most touching moments in any reception, but choosing the right song can be tricky. Think about your relationship and what kind of song best represents you and your dad. The father-daughter dance songs below are sweet and sentimental—perfect for the special moment.
"My Girl" by The Temptations
"God Only Knows" by The Beach Boys
"Isn't She Lovely" by Stevie Wonder
"Forever Young" by Bob Dylan
"Here Comes the Sun" by The Beatles
"Cinderella" by Steven Curtis Chapman
"Tupelo Honey" by Van Morrison
"One Call Away" by Charlie Puth
"It's For My Dad" by Nancy Sinatra
"That's My Daughter in the Water" by Loudon Wainwright
"93 Million Miles" by Jason Mraz
Mother-Son Wedding Songs
The mother-son dance is another sentimental moment during the reception. As with father-daughter dance songs, this tune should be respectful and appropriate—and it should show off the bond you share. The list below includes the best wedding songs for any mother and son on the big day.
"What a Wonderful World" by Louie Armstrong
"My Wish" by Rascal Flatts
"In My Life" by The Beatles
"You Are The Sunshine of My Life" by Stevie Wonder
"I Hope You Dance" by Lee Ann Womack
"Your Song" by Elton John
"Stand by Me" by Ben E. King
"Days Like This" by Van Morrison
"You've Got a Friend in Me" by Randy Newman
"A Song For Mama" by Boyz 2 Men
Country Wedding Songs
Planning a country affair for you and your spouse-to-be? Take a look at our list of country wedding songs below. You'll find a mix of classic country and pop, from romantic numbers to upbeat songs that are sure to get any crowd dancing. Whether you're planning a full-on country wedding or are looking to compliment your day with a few country hits, look no further.
"From the Ground Up" by Dan + Shay
"Making Memories of Us" by Keith Urban
"My Best Friend" by Tim McGraw
"Any Man of Mine" by Shania Twain
"Butterflies" by Kacey Musgraves
"I Cross My Heart" by George Strait
"Amazed" by Lonestar
"Cowboy Take Me Away" by The Dixie Chicks
"Crazy" by Patsy Cline
"Ring of Fire" by Johnny Cash
"10,000 Hours" by Dan + Shay and Justin Bieber
Modern Wedding Songs
As much as any wedding party loves to hear the classics, they'll also want to hear some new hits. These modern wedding songs will add some variety to your reception, and are great for dancing and singing along. Choose any of the modern wedding songs below to bring everyone together on the dance floor.
"Lover" by Taylor Swift
"Sweet Creature" by Harry Styles
"How Long Will I Love You" by Ellie Goulding
"I Do" by Colbie Caillat
"Coming Home" by Leon Bridges
"Mirrors" by Justin Timberlake
"Fallin' All In You" by Shawn Mendes
"Love Me Now" by John Legend
"Love Me Like You Do" by Ellie Goulding
"Latch" by Sam Smith and Disclosure
"XO" by Beyoncé
Christian Wedding Songs
Whether you're a fan of Christian music or simply looking to add special meaning to your wedding day, the following songs are a great place to start. These wedding songs span a variety of styles, such as pop, rock, country, and soul, and will fit every moment of your wedding, from the ceremony itself to the first dance.
"God Gave Me You" by Dave Barnes
"When I Say I Do" by Matthew West
"Love Never Fails" by Brandon Heath
"Wedding Day" by Casting Crowns
"Oh Happy Day" by Aretha Franklin
"When God Made You" by Newsong ft. Natalie Grant
"Unfailing Love" by Jimmy Needham
"I Will Be Here" by Steven Curtis Chapman
"The Prayer" by Charlotte Church & Josh Groban
"I Can Only Imagine" by MercyMe
R&B Wedding Songs
Every wedding should have at least a few of these classic R&B tunes. These crowd favorites will inspire any guest to dance with their special someone, or tear it up with a more lively song. Add a little soul, funk, and blues to your day with these R&B wedding songs.
"Let's Stay Together" by Al Green
"That's How Strong My Love Is" by Otis Redding
"That's Where It's At" by Sam Cooke
"Kiss" by Prince
"So in Love" by Curtis Mayfield
"Superstition" by Stevie Wonder
"If I Ain't Got You" by Alicia Keys ft. Usher
"September" by Earth, Wind & Fire
"Let's Get It On" by Marvin Gaye
"Respect" by Aretha Franklin
"By Your Side" by Sade
"Thinkin Bout You" by Frank Ocean
Fun Wedding Songs
While every wedding should include romantic love songs, your guests will want to let loose and have fun during the reception. The list of best wedding songs below are great for dancing and singing along, and will get any guest to join in on the action. Have fun at your wedding with these classic tunes.
"Girls Just Want to Have Fun" by Cyndi Lauper
"Livin' on a Prayer" by Bon Jovi
"The Twist" by Chubby Checker
"Call Me Maybe" by Carly Rae Jepsen
"Watch Me (Whip/Nae Nae)" by Silentó
"Cupid Shuffle" by Cupid
"Sweet Caroline" by Neil Diamond
"Wobble" by V.I.C.
"You Shook Me All Night Long" by AC/DC
"Friends in Low Places" by Garth Brooks
"Love on Top" by Beyoncé
"In the Name of Love" by Bebe Rexha and Martin Garrix
Classic Wedding Songs
There are certain songs that people expect to hear when they attend a wedding reception. The songs below have stood the test of time, and will be a welcome addition to your wedding. If you ever need to get people out on the dance floor, play one of these songs and wait to see everyone join in.
"Billie Jean" by Michael Jackson
"Love and Marriage" by Frank Sinatra
"Twist and Shout" by The Beatles
"Oh, Pretty Woman" by Roy Orbison
"Don't Stop Believin'" by Journey
"I Want You Back" by Jackson 5
"Stayin' Alive by The Bee Gees
"I Got You (I Feel Good)" by James Brown
"Like a Prayer" by Madonna
"It Had To Be You" by Harry Connick Jr.
Wedding Love Songs
No matter what style of music you choose on your wedding day, the classic love songs below will resonate with you and your partner as well as your guests. If you're looking to turn up the sentimentality during your wedding, these songs will bring everyone together to remember what matters.
"You Are So Beautiful" by Joe Cocker
"Wonderful Tonight" by Eric Clapton
"Endless Love" by Diana Ross & Lionel Richie
"The Way You Look Tonight" by Frank Sinatra
"Unchained Melody" by The Righteous Brothers
"When I Fall in Love" by Nat King Cole
"Love Me Tender" by Elvis Presley
"Crazy Little Thing Called Love" by Queen
"Baby I Need Your Loving" by The Four Tops
"In Your Eyes" by Peter Gabriel
Funny Wedding Songs
Every wedding should have romantic and sentimental moments, but it's also fun to laugh together as you celebrate. The funny wedding songs below span several decades, and are sure to get everyone dancing, singing, and laughing. Add a few of these wedding songs to your playlist to keep your reception fun and entertaining.
"Ice Ice Baby" by Vanilla Ice
"Wannabe" by Spice Girls
"U Can't Touch This" by M.C. Hammer
"Baby Got Back" by Sir Mix-a-Lot
"All About That Bass" by Meghan Trainor
"I Wanna Grow Old With You" Adam Sandler
"Shake Your Booty" by KC & The Sunshine Band
"Hot Stuff" by Donna Summer
"#Selfie" by The Chainsmokers
"Sexy And I Know It" by LMFAO
Indie Wedding Songs
If your musical tastes are more off the beaten path, take a look at our indie wedding songs below. Even though your guests may not know some of these songs, they will fit the romantic and happy mood. Some are even great for dancing. Add a personal touch to your wedding with any of these lesser-known wedding favorites.
"Us" by Regina Spektor
"Love You For a Long Time" by Maggie Rogers
"1234" by Feist
"Another Sunny Day" by Belle and Sebastian
"Just Like Honey" by The Jesus and Mary Chain
"I Found a Reason" by The Velvet Underground
"Little Talks" by Of Monsters and Men
"Closer" by Tegan and Sara
"Imaginary Love" by Rufus Wainwright
"I And Love And You" by The Avett Brothers
"500 Miles" by Sleeping at Last
"You and I" by Ingrid Michaelson
Catholic Wedding Songs
If you're planning a Catholic wedding, there are many songs to choose from to highlight your day. The songs below will be a beautiful addition to any Catholic wedding.
"The Wedding" by Michael Card
"Song of Songs" by Rory Cooney
"We Say Yes" by Marty Haugen
"Today and Tomorrow" by Lori True
"Wherever You Go" by David Haas
"Blest Are They" by David Haas
"When this Day is Done" by Liam Lawton
"God, in the Planning" by John Bell
"Taste and See" by James Moore, Jr.
"Thanks Be to Thee" by Handel
Gospel Wedding Songs
If you're looking for gospel wedding songs, the list below will not disappoint. These songs will infuse your wedding with heart, emotion, and soul, and are beautiful additions to any ceremony. Whether you need a song to walk down the aisle to or one to sing to your partner, these songs will get everyone in attendance to smile and wipe away a tear.
"Close to You" by Bebe Winans
"Order My Steps" by Brooklyn Tabernacle Choir
"The Lady Her Lover & The Lord" by T.D. Jakes
"I Never Lost My Praise" by Brooklyn Tabernacle Choir
"Wait On The Lord" by Donnie McClurkin ft. Karen Clark Sheard
"The Prayer" by Donnie McClurkin & Yolanda Adams
"My Life My Love My All" by Kirk Franklin
"My Everything" by Cheneta Jones
"The One He Kept for Me" by Maurette Brown Clark
"How Deeply I Need You" by Shekinah Glory
Upbeat Wedding Songs
To get people dancing, try one of these upbeat wedding songs. This mix of classic rock, pop, and hip-hop spans several decades and will get anyone out of their chair and onto the dance floor. Celebrate with your friends and family by cranking up one of these wedding songs.
"E.I." by Nelly
"Timber" by Pitbull ft. Ke$ha
"Something Just Like This" by The Chainsmokers and Coldplay
"Live Your Life" by T.I. and Rihanna
"Hey Ya" by Outkast
"Mo Money Mo Problems" by The Notorious B.I.G.
"Your Love" The Outfield
"I Love It" by Icona Pop
"Uptown Funk" by Bruno Mars
"Poker Face" by Lady Gaga
"Till the World Ends" by Britney Spears
"Sweet Nothing" by Calvin Harris and Florence and the Machine
Unique Wedding Songs
Sometimes the classic wedding songs can start to feel overplayed and tired. Keep the occasion fresh and surprise your guests by playing one of these unique songs. This mix will fit a variety of moments during your day, and may get your guests to ask, "What song is this?"
"Cuz I Love You" by Lizzo
"There She Goes" by The La's
"Just Breathe" by Pearl Jam
"Earth Angel" by Death Cab for Cutie
"7 Rings" by Ariana Grande
"California Stars" by Wilco and Billy Bragg
"Today Was a Fairytale" by Taylor Swift
"Call on Me" by Eric Prydz
"I Never" by Rilo Kiley
"5 Years Time" by Noah and the Whale
"Little Romance" by Ingrid Michaelson
"Years (Acoustic)" by Matthew Koma
"Midnight City" by M83
"ily (i love you baby)" by Surf Mesa ft. Emilee
Alternative Wedding Songs
Looking for tunes you don't hear at every wedding? Consider adding a few alternative wedding songs to your lineup. We've got the best ideas here.
"Ho Hey" by The Lumineers
"There is a Light That Never Goes Out" by The Smiths
"Fresh Feeling" by Eels
"Walking After You" by Foo Fighters
"It's Oh So Quiet" by Björk
"Do You Realize??" by The Flaming Lips
"Here Comes Your Man" by The Pixies
"Just Like Heaven" by The Cure
"Let Me Go" by Cake
"Maps" by Yeah Yeah Yeahs