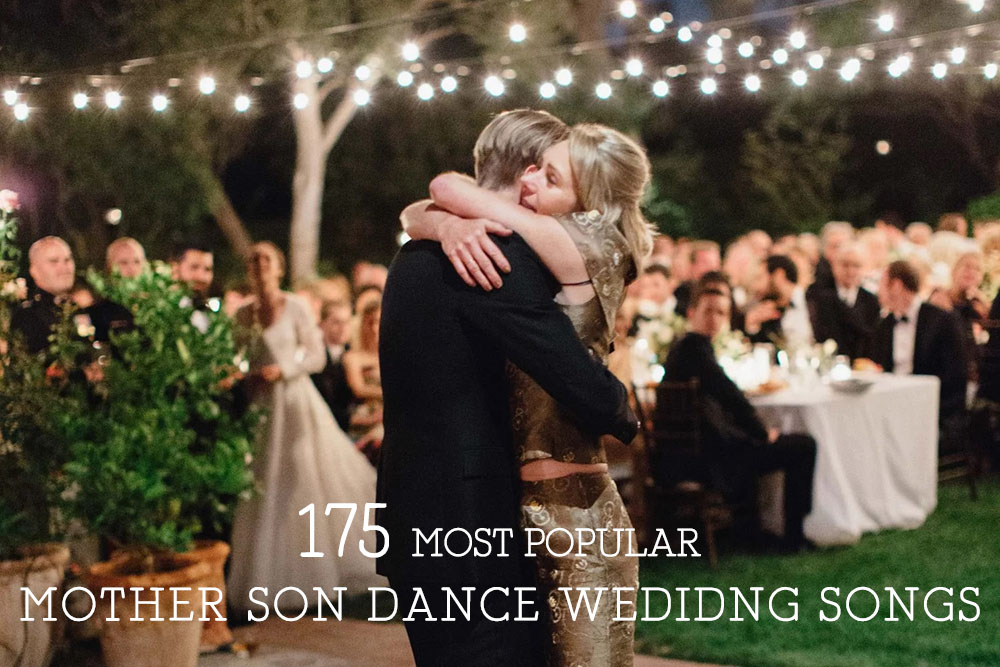 Best 175 Mother Son Dance Songs for 2022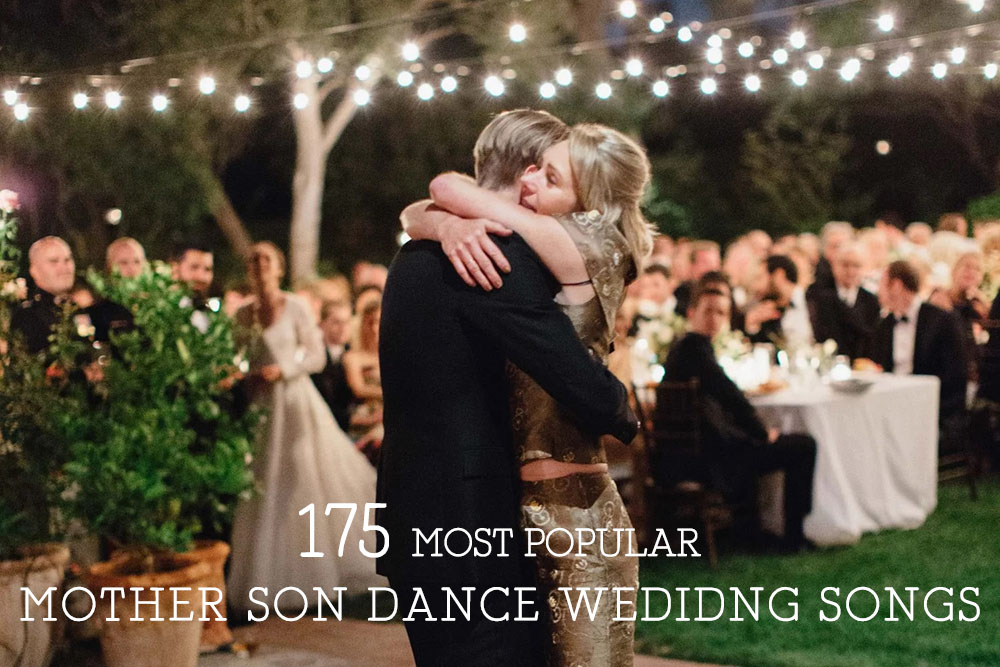 Like the Father-Daughter dance, the mother-son dance is one of the most touching moments of the entire wedding day. In this intimate portion of the wedding reception, the groom and his mother have a chance to share a dance together. In a way, this is a sort of "goodbye" for mother and son (something many of the songs in this list touch on). Such a powerful moment deserves a great soundtrack !
To help you find the right song for your Mother-Son wedding reception dance, we've listed our 175 most popular recent requests that we expect to be popular again in 2022.
Best Mother Son Wedding Dance Songs
Josh Groban – You Raise Me Up
Frank Sinatra – The Way You Look Tonight
Bob Marley – One Love/People Get Ready
Jim Cocker – Up Where We Belong
Louis Armstrong – What a Wonderful World
Lucero – Mom
James Taylor – How Sweet It Is
The Beatles – I Will
Natalie Merchant – Kind & Generous
Sarah McLachlan – Ordinary Miracle
Elton John – Blessed
2Pac – Dear Mama
Nat King Cole – Unforgettable
Eric Clapton – Wonderful Tonight
Van Morrison – Have I Told You Lately
Bette Midler – Wind Beneath by Wings
The Band Perry – Mother Like Mine
Paul Simon – Mother and Child Reunion
Elton John – Your Song
Taylor Hicks – Taylor Hicks
Paul Todd – The First Lady in My Life
The Backstreet Boys – The Perfect Fan
Spice Girls – Mama
Keith Urban – God's Been Good to Me
Celine Dion – Because You Loved Me
Upbeat Mother Son Dance Songs
Queen – You're My Best Friend
Michael Bublé – Some Kind of Wonderful
The Beatles – In My Life]
Michael Jackson – Beat It
The Beach Boys – God Only Knows
Queen – Don't Stop Me Now
James Taylor – How Sweet It Is
Lukas Graham – Mama Said
Marvin Gaye – Lets Get It On
The Intruders – I'll Always Love My Mama
Us the Duo – Dear Mom & Dad
Earth, Wind & Fire – September
Paul Simon – Loves Me Like a Rock
James Taylor – How Sweet It Is (To Be Loved By You)
Nancy Sinatra – Sugar Town
Paul Simon – Kodachrome
Bruno Mars – Just The Way You Are
Good Charlotte – Thank You Mom
Michael Jackson – Billie Jean
Chubby Checker – The Twist
MC Hammer – U Can't Touch This
Taco – Puttin' on the Ritz
Tom Jones – It's Not Unusual
Bruno Mars – Uptown Funk
Michael Jackson – Thriller
Modern Mother-Son Wedding Songs
Calum Scott – No Matter What
Matthew John – Everything
Queen Naija – Mama's Hand
Elvis Presley – Memories
Reba McEntire – You're Gonna Be
Sheryl Crow – Sweet Child o' Mine
Marc Anthony – My Baby You
Thompson Square – If I Didn't Have You
The Pretenders – I'll Stand By You
The Intruders – I'll Always Love My Mama
Rascal Flatts – My Wish
John Lennon – Beautiful Boy
Tim McGraw – Just To See You Smile
Elvis Presley – The Wonder of You
Jason Mraz – 93 Million Miles
Neil Young – Here For You
Van Morrison – Days Like This
James Taylor – How Sweet It Is (To Be Loved By You)
Beyoncé – God Made You Beautiful
Jon Boden – How Long Will I Love You
Adele – Sweetest Devotion
Carrie Underwood – What I Never Knew I Always Wanted
Phillip Phillips – Home
Meghan Trainor – Mom
Paul Todd – The First Lady in My Life
Alternative Mother Son Wedding Dance Songs
John Lennon – Beautiful Boy
James Taylor – Sweet Baby James
Edwin McCain – Letter to My Mother
Tom Petty – Learning to Fly
Taylor Swift – The Best Day
Alicia Keys feat. Eve – Speechless
The Commodores – Three Times A Lady
Crosby, Stills, Nash, & Young – Teach Your Children
Lady Antebellum – Never Alone
Billy Joel – Lullaby
Van Morrison – Tupelo Honey
Adele – Sweetest Devotion
Jack Johnson – Home
Jackie Wilson – Your Love Keeps Lifting Me
Dar Williams – The One Who Knows
Peter Pan – Your Mother and Mine
Jungle Book – I Wanna Be Like You
Monsters Inc – If I didn't Have You
Toy Story – You've Got A friend in Me
Dumbo – Baby Mine
Boyz II Men – A Song For Mama
Mariah Carey – Hero
Kanye West – Hey Mama
Roberta Flack – The First Time Ever I Saw Your Face
Lynyrd Skynyrd – Simple Man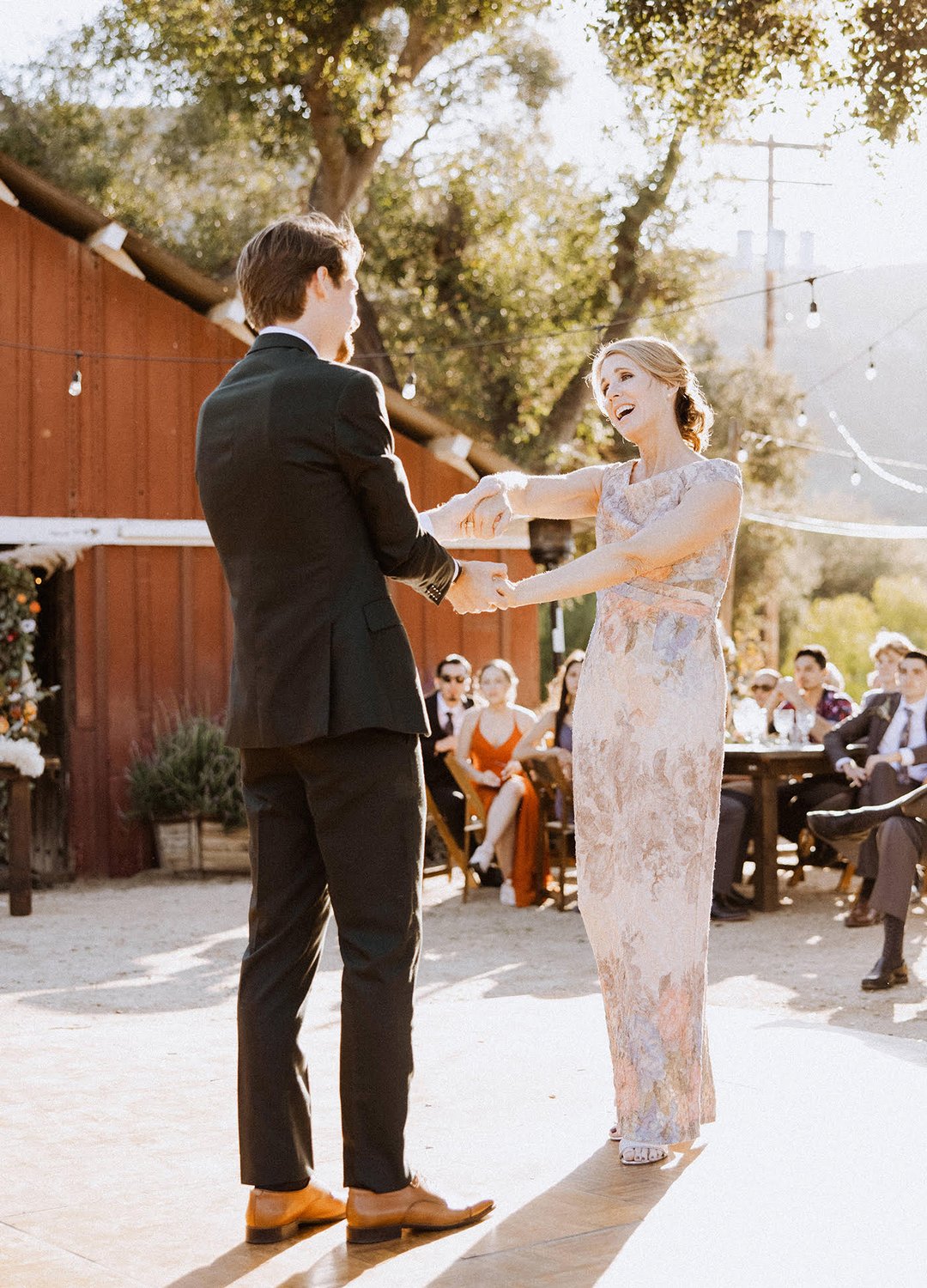 Unique Mother Son Wedding Dance Songs
Rod Stewart – Forever Young
Queen – You're My Best Friend
David Bowie – Kooks
Beatles – All You Need is Love
3 Dog Night – Mama Told Me (Not To Come)
21 Pilots – House Of Gold
Lynyrd Skynyrd – Simple Man
Cadamole – A Biologist's Mother's Day Song
Bob Dylan – If Not For You
Israel "IZ" Kamakawiwoʻole – Somewhere over the Rainbow
Randy Newman – You've Got A Friend In Me
Garth Brooks – Two Piña Coladas
The Shirelles – Mama Said
INXS – Never Tear Us Apart
The Rolling Stones – Wild Horses
Sting – Fields of Gold
Santana & Rob Thomas – Smooth
Ben Folds – Still Fighting It
Tom Petty – Wildflowers
Crosby, Stills, Nash & Young – Teach Your Children
The Muppets – Rainbow Connection
Bruce Springsteen – If I Should Fall Behind
Carole King – Child Of Mine
Carole King – You've Got A Friend
Linda Ronstadt and James Ingram from the movie An American Tail – Somewhere Out There
Country Songs For Mother Son Dance
Sugarland – Mother
Lee Brice – The Best Part Of Me
Garth Brooks – The Dance
Lady Antebellum – Never Alone
Carrie Underwood – Mama's Song
Trace Adkins – Then They Do
Lauren Alaina – Like My Mother Does
Randy Travis – Angels
Blake Shelton – The Baby
Anne Murray – Roots and Wings
Billy Dean – If There Hadn't Been You
B.J. Thomas – Mama
Dixie Chicks – Godspeed (Sweet Dreams)
Gary Morris – The Wind Beneath My Wings
Faith Hill – There You'll Be
Kenny Rogers – The Greatest
Jessica Andrews – I Will Be There for You
Kenny Rogers – You Decorated My Life
Mark Wills – I Do (Cherish You)
Kenny Rogers – Through the Years
Reba McEntire – I'll Be
Rascal Flatts – I'm Moving On
Reba McEntire – He Gets That From Me
Ricky Skaggs – Thanks Again
Willie Nelson – In My Mother's Eyes
Classic Rock Mother Son Wedding Songs
Scissor Sisters – Take Your Mama
Kanye West – Hey Mama
Iron and Wine – Up Over the Mountain
Bob Dylan – Forever Young (Slow Version)
Mac Miller – I'll Be There
Otis Redding – Glory of Love
Good Charlotte – Thank You Mom
James Taylor – You've Got a Friend
Beatles – In My Life
The Intruders – I'll Always Love My Momma
Bruce Springsteen – If I Fall Behind
Crosby & Nash – Carry Me
The Temptations – My Girl
Bon Jovi – Thank You for Loving Me
Patti LaBelle – You Are My Friend
Pink Floyd – Mother
George Harrison – All Those Years Ago
Beach Boys – God Only Knows
Chicago – Colour My World
Chicago – Just You and Me
Simon and Garfunkel – Bridge Over Troubled Water
AneBrune – True Colors
The Byrds – Turn, Turn, Turn
The Commodores – Three Times a Lady
Atlantic Starr – Always
Mother of The Groom Dresses