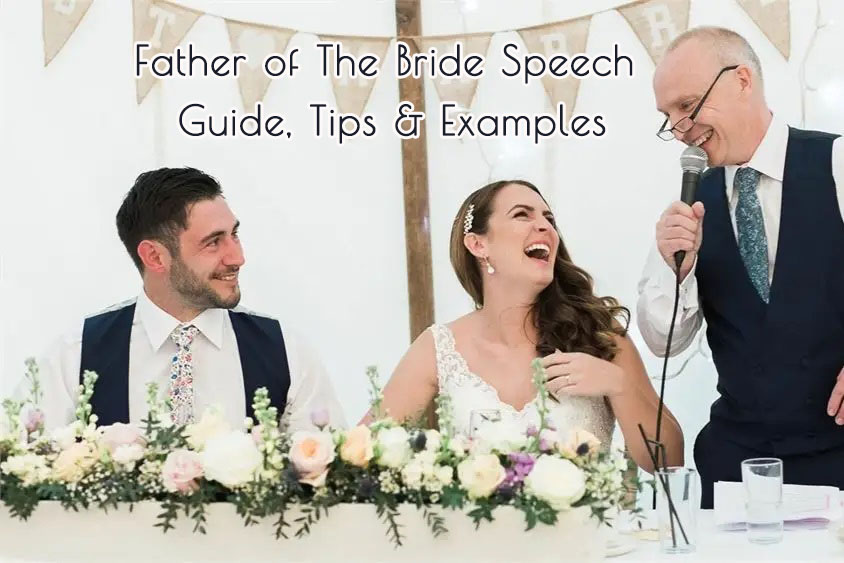 2022 Father of The Bride Speech Guide, Tips & Examples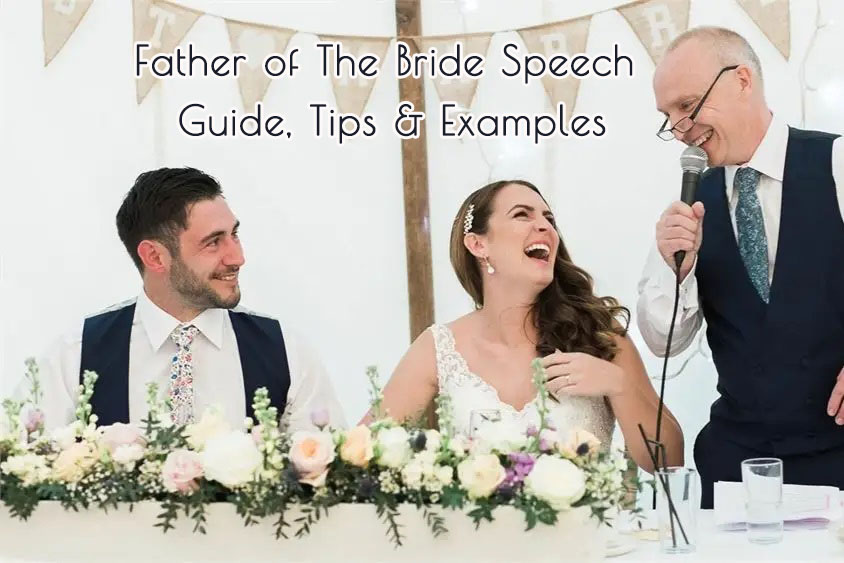 What should be included in a father of the bride speech?
Welcome the guests, tales, and praises about your daughter, a welcome to your new son-in-law or daughter-in-law, words of advice, and a toast to the new pair are all part of a typical father of the bride speech.
What is a good way to end a father of the bride speech?
Ending a father of the bride speech with a few words of advice for the newlywed couple is always a good idea, followed by a strong passionate toast that you invite all of the guests to end in.
Father of the Bride's Speeches Guide 2022
The bride's father typically delivers his speech first at the wedding reception, followed by the groom's speech and the best man's speech. The father of the bride's speech is typically seen as the warm-up act in this order.
Father of the Bride Speech Template
Here's a general outline for writing a father of the bride speech that'll have everyone reaching for tissues.
1. Introduce Yourself. Introduce yourself and welcome all the guests to the special day (ask the bride for any special mentions she might want to include here like friends who have traveled from overseas).
2.Welcome the guests. Typically, the parents of the couple are the first to speak at either the rehearsal dinner or the wedding reception. If you're the first toast-maker of the night, this would be the time to welcome all of the guests to the reception or whichever event you are delivering the speech at. Of course, feel free to skip this step if you're not the first speech and the guests have already been welcomed.
3. Give thanks. Since you have the mic, don't forget to express gratitude. Be sure to thank your friends and family for coming to the wedding, and the parents of your daughter's new spouse for anything and everything that they did.
4. Pepper in some fond memories. Nothing gets the waterworks started like some heartfelt anecdotes from the bride's lifetime through the eyes of their beloved dad. Choose some especially warm memories from your little girl's childhood that always stick out in your mind or some funny (not embarrassing) trials from adolescence. If one of those special memories includes their S.O., definitely be sure to share that with the guests.
5. Share your pride. As the father of the bride, you're entitled to be a very proud papa. Mention some especially big moments of pride for you and how much you cherish your daughter's achievements. Don't confuse this with an excuse to spout off their résumé, though. Only pick a couple of standout highlights that really speak to their character.
6. Talk about the present. Try not to live completely in the past, Dad! Discuss notable things that are occurring presently, on this momentous day as it's unfolding. While everyone is experiencing the events from their own perspective, your special POV provides a unique lens on the significance of the occasion.
7. Acknowledge your daughter's new spouse. While you have so much to say about the bride, remember to mention and acknowledge their new spouse, too. Take this time to welcome them into your family and share what it means to you. You can also share some anecdotes of their relationship and what stood out to you most.
8. Tell your daughter you love them. That's your baby right there, and this is the moment to tell them just how much they mean to you. Express how much you love and cherish your daughter. Remind them of how you've treasured your relationship together and how you think that relationship may be evolving or staying exactly the same.
9. Look to the future. You've covered the past and present, now move on to the next chapter and speak about the shared future of the newlyweds. While you can always get creative with the flow of the speech, breaking things down in a classic chronological order is always easy for the guests to follow.
10. Add some parting wisdom. Whether it's a piece of marriage advice or just your most heartfelt wishes for the newlyweds, include some sage wisdom for the happy couple. This is pinnacle dad-talk time, so be sure to really relish the moment. Just don't forget that there are other people present, and it's not just you and your daughter.
Father of the Bride Speech Tips
Okay, dads. Now that you have a general idea of what to include, take note of these essential tips for giving the best father of the bride speech anyone has ever heard.
1. Consider a theme. Having an overarching theme from the get-go will set a tone for the speech as a whole. This should make it easier for you to succinctly organize your thoughts and choose relevant examples to showcase. Utilizing this type of framework will result in cohesive and meaningful content that will come across as inspired and have the audience hanging on every word.
2. Keep it short. Though you've been waiting for this day to come for many years, try to keep your toast short and sweet. The ideal length is about five or six minutes with the three-minute mark being your lowest threshold for a proper speech. There may be a lot you want to say, and if that's the case, consider writing some of those heartfelt sentiments down beforehand and giving it to your daughter in a card to read privately the morning of the wedding.
3. Don't be too embarrassing. Skip the stories that may make your daughter cringe or those memories that they wish you would just forget already. Remember, the speech is a toast and not a roast. Keep in mind that along with their newly minted spouse, a whole new family of in-laws and possibly even a few work colleagues will be present. So, if there's something you're on the fence about saying, consider if you would think the information appropriate for your in-laws and colleagues to learn about you.
4. Skip ex mentions. If you have an urge to call out how terrible some ex-boyfriends or girlfriends were in the past, skip that little tidbit and keep it to yourself. There's never any good that can come from name-dropping old lovers at your daughter's wedding, no matter how much you really disliked old what's-their-name. Stick to positive anecdotes and memories that showcase your daughter's good side, not mistakes.
5. Don't push for laughs. Oftentimes, you'll get laughs when you're not trying hard for them. Don't feel like you have to color your toast with joke line after joke line—it may come off as forced, especially if you're not normally the jokester in the bunch. The most important person in the room, your daughter, will definitely know if you're not being yourself, and all they really need is their dad—not a comedian.
6. Embrace your emotions. It's an absolute given that this is an emotional day for you, so don't feel the need to act stoic and put up a façade. Stay genuine and admit to how difficult it is to let your child go. These admissions make for a touching moment, and we guarantee there won't be a dry eye left in the room. And we mean you, too, pops. Today is the day when it's perfectly okay to shed a tear or two.
7. Practice, practice, practice. And then practice some more. It's important that you attempt to memorize your speech, and at the very least, have everything written down and a general idea of what you want to say. If memorizing the whole speech is a little too difficult to do in such a short amount of time, be sure to practice it enough beforehand so that you can make eye contact with the couple and the other guests.
Get Brainstorming!
If you're still drawing a blank, here are some questions to ask yourself to start brainstorming.
Who is speaking directly before or after me? (You may want to introduce the next speaker or reference whoever spoke previously.)
What emotions do I experience when I think of letting my daughter go?
What do I wish for their marriage and life together, and how can I prepare them for that?
Is there anything I would like to say to their in-laws or newly acquired family?
Is there something in the order of events that the audience needs to know, prepare for, or be aware of? (Your role can also assume that of master of ceremonies, so be mindful of the flow of upcoming events and if you need to alert the guests.)
What Should A Father Of The Bride Speech Include?
A traditional father of the bride speech includes a few key elements such as welcoming the guests, anecdotes and compliments about your daughter, a welcome to your new son-in-law or daughter-in-law, words of advice and a toast to the new couple.
How Do You End The Father Of The Bride Speech?
It always works well to end a father of the bride speech with a few words of wisdom for the newly married couple, followed by a strong heartfelt toast that you invite all the guests to take part in.
The Dos And Don'ts Of A Good Father Of The Bride Speech
1. Ask For Help
Before you even think about writing your first draft, it can really help to have a brainstorm with a few key people.
Ask the bride's mother, any siblings, or really close family to come together to reminisce about the bride, as they may remember some absolutely hilarious or key stories that you've forgotten.
You can go back and forth to this family group while writing too for extra details and clarification on facts, plus it'll help you feel a lot less pressure than you would if you were going solo.
2. Focus On A Good Introduction
As you're opening the speeches section of the wedding, it's important not to just go straight into your speech at 100mph and instead to introduce yourself. While most people in the room will know who you are, there may be a few who don't.
Plus, it's a nice easy way to confidently ease yourself into public speaking. Try not to sound too robotic by just saying your name and that you're the bride's dad! Think of a more heartfelt way to say you're her father.
You can also really quickly put wedding guests at ease by making them laugh. It doesn't have to be a silly gag or a hilarious joke, but just something cute and quirky about the bride or perhaps an observation about the day that can really help get the ball rolling.
3. Don't Spend Ages Thanking People
The father of the groom speech is not the time to go through everyone that needs thanking – this often happens during the groom's speech and you can be sure that if you go down this route that you'll massively wrong-foot the groom and make his speech rather difficult to deliver without major repetition.
Confine your thanks to a general one – simply thank everyone for coming to the wedding and watching the proudest moment of your life as your daughter gets married.
4. Use Clever Quotes
If it feels suitable for your speech, you can use famous quotes to get your point across and provide a bit of pace to the delivery. Some fathers like to open with a quote from someone famous and use it as a way to introduce an overarching theme that'll carry on through the speech.
If you're known for being a showman or a bit of a character, a dramatically delivered quote can get the guests laughing straightway. If not, find a quote that sums up exactly how you feel about the bride and use it instead of your own words if you can't quite get the sentiment right.
5. Don't Embarrass Your Daughter
There's a fine line between a funny and sweet anecdote and one that'll make your guests cringe.
You don't want to make anyone, especially the bride, feel uncomfortable, so stick to stories that are heartfelt and meaningful rather than too graphic. No one needs to hear that she wet the bed until she was 11!
You can still take the mickey out of her though, but in a much more charming way.
Choose stories that are relevant to who she is today. Perhaps she was obsessed with animals from the moment she could talk and brought all manner of horrible bugs into your house – now she's a vet it all makes sense.
Maybe she was the clumsiest little girl you've ever known so it's incredible that she's now a successful dancer.
Perhaps she had a crazy imagination that got her into all sorts of trouble (insert funny anecdotes here), but she's now managed to harness it into a successful career as a novelist.
6. Make Your Speech Different
When talking about your daughter and how much you love her it's important to avoid clichés and words that could apply to any bride.
We're talking about "beautiful", "amazing", "kind" etc.
Think about what makes her who she is and celebrate these traits.
Remember no-one is perfect, and just because it's her wedding day doesn't mean you have to make her sound like the ideal woman. The guests want to hear about all the good bits as well as the slightly less so, as it's much more real and will represent the person they know and love.
7. Don't Mention Any Exes
This is a key one that shouldn't be broken – DO NOT mention any exes. No-one wants to remember a time when the happy couple weren't together or imagine the bride with another partner so just don't go there, even if there's a funny anecdote! It's the quickest way to alienate the new in law to the family.
8. Spend Time Talking About Her New Husband Or Wife
On the other hand, not mentioning your new son-in-law or daughter-in-law in your wedding speech is almost as bad as the groom forgetting to mention his new wife in his wedding speech. While the father of the bride speech is predominantly about your daughter, you have to dedicate at least a sentence or two to her chosen partner.
Make sure to say how happy you are that the bride met their partner and how much happiness he/she clearly brings into her life.
You can talk about what your impressions were the first time you met him/her and how your relationship has grown or include funny stories about the early years of their relationship.
9. Mention The Bride's Mother And New In-Laws
It's important not to single-handedly take credit for your amazing daughter in your speech (unless of course, you raised her all alone).
Spend time talking about any good traits she has inherited from her mother and how special their relationship is. Even if you're divorced from her mother, a line or two acknowledging her part in your child's life will be very well appreciated.
10. Impart Some Wisdom For The Newlyweds
Once you've run out of anecdotes and have said all the beautiful words about how you feel, it's time to impart some advice.
This can go one of two ways.
Perhaps you've had a successful and long marriage and therefore you can draw inspiration from both the wonderful and hard times to pass on some key bits of advice. If you're known for being a bit hapless when it comes to marriages and relationships you can make this section funny and tell the couple not to do anything you did!
If this is the case you can also always ask other successfully married couples from within the guests for their advice before the big day and then impart this. Your daughter will appreciate the effort you've gone to, to ensure that you had something meaningful to pass on to her at such a huge stage in her life.
11. Don't Make The Speech About You
Remember this speech is meant to be about your daughter and the person she is marrying today.
If once you've written the speech and are reading through it and you find yourself repeatedly saying "I" or "me" more than "she" or "her", then chances are you've made the speech too much about you.
Yes, the anecdotes are your stories to tell, but they should focus on your daughter and why they are relevant to who she is today rather than how they made you feel or how they impacted you.
12. End With A Toast
As the first speechmaker, you can't just tail off.
A strong end is key to the overall success of the speech and helps draw a line under your words and the start of the next speech.
So, make sure you have a really good finishing sentence, followed by a clear call to the guests to stand and toast. You need to make sure the guests know exactly what you want them to do otherwise you'll end up with a half-hearted end with some standing up and some not and a mish-mash of words. Clearly state the words you want them to toast with and invite the guests to stand to ensure a resounding toast!
Now all that's left to do is practise reading out your father of the bride speech, in a confident – and slow – manner and make sure you smile while doing it.
It can also be a really good idea to ask your wife or partner to read through the draft speech too. Just to make sure you've remembered the anecdotes properly (we're all prone to the odd embellishment!) and also to check that you're not veering off into embarrassing territory.
Good luck!
Father Of The Bride Speech Examples
Take some inspiration from fathers who have been there, done that and got the t-shirt with these brilliant father of the bride speech examples from real weddings.
Heartfelt father of the bride speech
A heartfelt speech is always a winner and this father covers all the main points in a meaningful and heartwarming manner.
Father of the bride speech full of funny anecdotes
The extract from this hilarious speech shows how to weave anecdotes into your speech while also ensuring it focusses on your daughter and not you.
Alternative father of the bride speech
If you want to wow guests and your daughter consider pulling something alternative and wow-factor out the bag like this funny and entertaining video speech.
Emotional father of the bride speech
Emotional speeches don't have to be embarrassing to watch. This father delivered a perfectly eloquent speech that focuses on the emotion and real meaning of the day.
Funny poem father of the bride
This father manages to keep the guests' laughing and involved with his witty speech delivered in poem format.
Short but sweet father of the bride speech
This speech is only a few minutes long, but the father of the bride covers the two most important points – talking about his daughter and complimenting his new son-in-law.
Good luck, father!