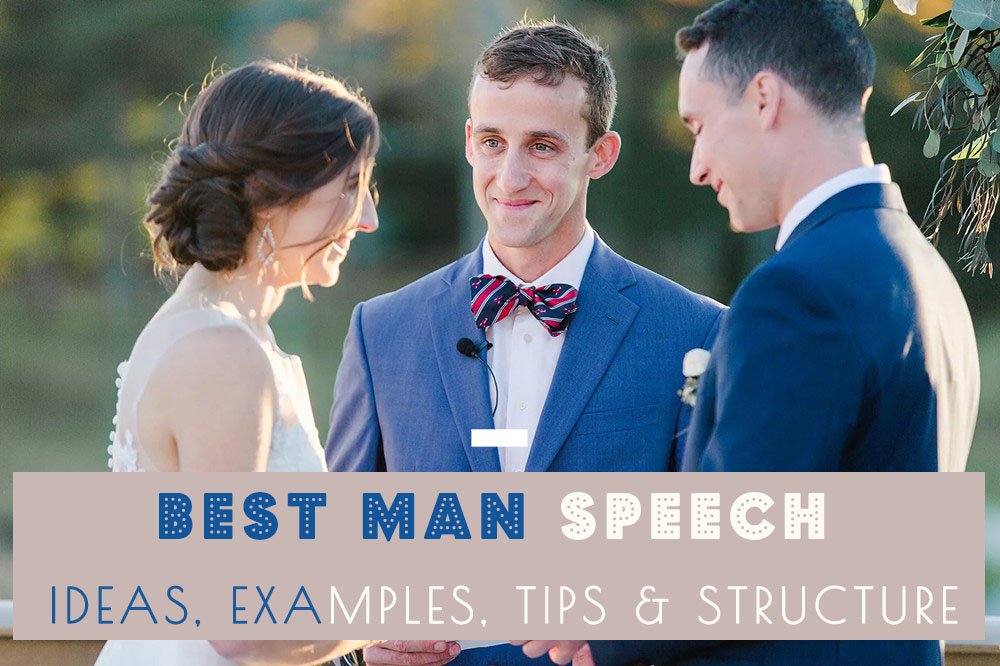 First off—congrats! You've been declared "best man." You, of course, have many important responsibilities—groomsmen shepherding, alcohol distributing—but there's really only one task that will secure your proud ascension into the ranks of the very best best men: giving a killer toast.
We tapped Litt to help us create this guide on getting the process started. Read on for speechwriting tips, and even ideas for best man speeches to pull off the best toast ever.
How To Write The Perfect Best Man Speech
For a great wedding speech, there are some simple rules you have to follow. Here are examples of best man speeches Dos and Don'ts.
Dos
Plan your speech ahead (think about your best man speech structure, choose formal or funny style) and practice.
Tell a short story (keep the speech to about 5 minutes or less) with jokes (2 or 3 will be enough).
Memorize your speech. Don't read from paper. Let it flow.
Get sentimental at some point, make compliments to the bride.
Finish on an optimistic note (end your speech with love quotes or wishes for the happy couple).
Be thankful (express gratitude towards the couple, their family, and anyone who helped make the wedding happen).
Don'ts
Do not cross the 2-5 mins time limit.
Do not make it about you.
Avoid dirty jokes.
Do not ignore the bride. Let her know how happy you are, that she is ending up with your friend.
Avoid rude remarks. Keep your manners in check, even if it's for a day.
How To Make A Best Man Speech Outline
Introduce yourself
Talk about the groom
Talk about his new spouse
Explain why their marriage makes you happy
Give guests an action to take and close with a wish for the couple
Let's discuss the detail of each section so you can fill in the parts of this outline and write your own impressive best man toast.
Introduce Yourself
The first part of the best man speech outline is to introduce yourself. While many guests will know you and your relationship with the groom, there will be many guests who do not.
Kick-off your toast by stating your name and how you know the groom.
Examples:
Good evening. My name is Joe and I'm the groom's older brother.

Welcome, everyone. My name is Carl and I've been friends with Jason since we roomed together at Michigan State. 
Try to avoid overly-used cliches in an effort to have a humorous start. Things like, "I'm the older and better-looking brother" are far from unique and the only laughter they tend to evoke is nervous laughter.
Talk about the Groom
The second step in the best man outline is to focus on the groom. You can have fun with playful jokes at his expense but make sure to ground these jokes within more sentimental themes.
You'll also want to include one to three specific stories within this section of the outline. The stories should be about you and the groom together and can span any time period.For example, you may have a story from when you two were eight years old and then you flash forward to the college years.
Telling good stories in this section is one of the most important parts of writing your best man speech. If you can tell a strong story, you will captivate guests and leave a strong impression with everyone, especially the couple.
How do you do this? Choose stories that are entertaining and universal. This means any inside jokes should be excluded or saved for the bachelor party. Also, be sure to tie all the stories together with one theme.
For example, let's say you share tell three different stories: when you two played little league and the groom struck out, in college when the groom's stand up comedy routine failed to win over the talent show judges, and on your road trip when the groom tried but embarrassingly failed to talk his way out of that speeding ticket.
These stories are all very different and could be told in a wildly entertaining way but what's the theme here? What's the greater meaning that we can highlight on his wedding day of all days?
Here's your theme: the groom may have struck out and failed in these events but he's shown us how he's become the biggest winner of all by choosing to marry this person.
Ding ding ding! This is best man speech writing gold. Guests don't see where it's going because they're too busy being entertained and then you win over their hearts with the sentimental connection.
Talk about his New Spouse
While it can be tempting, don't focus 100% of your speech on the groom. Include a few words about his partner. You want the groom to know that you are happy with who he chose to marry and you want his new spouse to feel your love too.
Here are some writing prompts you can use to come up with ideas for this section:
Why do you feel this person is a perfect match for the groom?
In what ways does this person complement the groom?
What are some of your favorite memories with them?
When did you first meet? What was your initial impression?
Explain Why their Marriage Makes You Happy
This next section of the best man speech outline should focus on their new marriage.
Consider tying together themes from the previous sections into this part of the outline.
For example, if your theme is about how adventurous the groom is, describe how you see their marriage being full of adventure as a team.
Here are writing prompts to provide inspiration for this section of the best man speech outline:
What do you think their marriage will look like on a day-to-day basis?
What do you think the couple values most in marriage? How will they achieve that?
Why are you glad that the groom chose this person to marry?
Why will the groom have a better life with this person?
Give Guests an Action to Take and Close with a Wish for the Couple
The final step in the best man speech outline is the closing. My favorite way to close a wedding toast is to tell guests what to do.
For example, you may begin your closing with, "May I ask everyone to raise their glass," or "Please join me in toasting the happy couple."
This accomplishes two things:
Guests understand what their role is and they feel included.
Everyone knows your speech is coming to a close and this signals what kind of energy they need to bring.
Finally, your very last line should be a wish for the couple.
Here are some examples:
May you laugh together and love forever.

May you both remain as happy as you are today.

I wish you both a wonderful marriage full of plenty more reasons to celebrate from this day forward.
Basics Tips for Giving a Best Man Speech
1. Plan way ahead.
The first tip in our guide on how to write a best man speech is to plan far in advance. Do not procrastinate. "Start writing a best man speech at least two months before the wedding," Bliss says. "As the wedding nears, there are lots of events—suit fittings and a coed shower, perhaps—that could distract you from getting your writing done."
2. Grab their attention.
"Kick off with a killer opening line," Bliss says. Get everyone's attention and set the mood by starting your speech off with a great one-liner.
3. Be strategic about your jokes.
Make jokes about the groom, but leave his new spouse alone. Bliss says to keep any teasing focused on your buddy, whom we're guessing you're closer to.
4. Practice—with an audience.
This tip is a must when it comes to how to write a best man speech. Even if you think you have this whole thing in the bag, practice delivering your speech out loud at least three times. Whip out your phone, take a video and watch the playback to get a feel for how it's going. (Do you say "um" between every sentence? Are your gestures a little robotic?) "Or send it to a close friend who won't be going to the wedding and who can give you honest feedback," Bliss says.
5. Write it down.
Memorizing is fine if you have a great memory, but you'll feel a lot more confident if you have a written speech—or at least a few bullet points to keep you on track. Nerves can mess with your memory, so don't think you're a failure if you have to bring notes up there with you. Bliss suggests using small note cards instead of a sheet of paper, since they "won't flap around." Nowadays, many groomsmen will even read off their cell phone screens out of convenience.
6. Add variety.
"Vary the pace and tone of your best man speech," Bliss says. You know those movies that make you laugh, and then make you cry, or have action and romance? Aim for that in your best man speech. Variety will keep your speech interesting and strike the emotional chords of your audience.
7. Don't mumble.
"Enunciate your words loudly and clearly," Bliss says. A great best man speech becomes boring if it's delivered monotone, and it's nonexistent if everyone is straining to hear you. Speak confidently and slowly—otherwise all that speech practice will be for nothing!
8. Have a plan B.
If you feel your speech flagging, you can always turn the attention toward the couple and announce cheerfully, 'Aren't they a gorgeous couple?!' This will always get a cheer from your audience," Bliss says.
Examples Of Effective And Appropriate Best Man Speech Templates
The following are quoted "Heartfelt Best Man Speeches" that are excellent quality templates for contemporary Best Man remarks at any after-wedding reception, dinner, and party:
Example One: The "Thankful" Speech
#1
"Hello everyone, it's such a pleasure to be here tonight as [Groom's] best man. And I want to begin with saying what an honor it is that I was chosen to stand by your side today. You've always been someone that I looked up to and I am just beyond grateful that I get to share in this moment with you and [Bride].

[Groom] is someone that I've come to care for greatly over the years and I am so happy that he's found someone to share his life with and start a family with. [Groom] has always been my right hand throughout the biggest moments of my life and I can't wait to be able to watch everything beautiful unfold for the two of you. Cheers to a lifetime of happiness!"
Example Two: "Smart Move" Speech
"There's an old saying about friendship that reads, "It is one of the blessings of old friends that you can afford to be stupid with them," and goodness that couldn't be more true for me and my boy, [Groom].

I could go into all the funny stories that include some of that stupidity but instead I'd rather focus on all the smart moves he's made. His friendships, the relationship he has with his family, his career, it's all a reflection of the incredible man he's become. But really, the smartest move he's made is marrying you, [Bride].

Let's toast to the best decision [Groom's] ever made. I wish you a lifetime of love, happiness and success."
Example Three: The "She Was The One" Speech
#3
"Ladies and gentlemen, thank you all for coming out tonight to celebrate the wedding of two people we all love, [Bride] & [Groom]!

When I first met [Bride], I knew that she was the woman [Groom] would end up marrying. Even if it hadn't dawned on him quite yet, it was obvious to everyone around just how smitten he was with her. They talk about a bride's glow, but this man was shining since the moment he met [Bride]. He changed for the better without realizing it. And we all could see it.

He couldn't stop talking about her. We'd go out with the boys and [Bride's] name would be brought up every two minutes. So, when he came to me to tell me that he would be proposing my only response was, 'Well, it's about time!'

There's something special about these two. They go together without forcing it. They love each other without fighting it. And they care about each other without thinking about it. She was the one from the very beginning [Groom], and we're all so happy to be able to take part in your big day. Cheers!"
Funny Best Man Speech Examples
Best Man Talk For Adam And Kate
"Adam and Kate – What a great day to get married! Marriage carries new responsibilities.

Kate – from now on, you should never argue or disagree with Adam, because he is now the head of the family and the king of his castle. You will be expected to keep your hair and make-up perfect at all times – to dress in a way that pleases Adam. You should cook his favorite meals every night and encourage him to go out with his friends on a regular basis.

Do these simple things and your marriage will be blessed with many years of happiness. Kate – I know that Adam loves you very much… because he spent a long time writing this speech for me.

Congratulations to the both of you!"
Best Man Presentation For Sarah & Simon
"Sarah & Simon – every great relationship starts with rings.

In the beginning, the phone would ring and just the thought of speaking to one another was exciting. Your love grew and so did your commitment to each other. The engagement ring soon came after. There were no doubts… your love was true. The engagement ring has now turned into a wedding ring and we are all here today to celebrate your marriage.

Now of course… the suffer-ring begins. (smile and raise your glass) Peace and happiness to the new bride and groom!"
Best Man Talk For Neil And Claire
"Hi my name is _and _has asked me to be his best man for this wonderful occasion. I would like to say it is a very special honor but with it, comes the responsibility of giving the bloody speech. I would not say it is very comfortable to wear a tuxedo in a 30-degree church, which is not air-conditioned. The church ceremony I'm sure you'll all agree was a wonderful, wonderful occasion. Maybe a little hot, but I'm glad to see so many of you have replaced your electrolytes with fuel of the alcoholic kind since the reception began.

I have known Neil and Claire for_________ [how many years] years. You might say Neil and I met by accident, but it is no accident that _met _.

If you know _you know he is an excellent athlete, in fact I noticed his Athletes foot right away. This was a man who had his knees and ankles shaved, for easy taping. I knew this was a hard-core sports fanatic. We both share a tremendous love of football and basketball. For many years, we have had a running bet during the season as to who will score more goals or more runs which of course, I always won.

Neil is a ______________ [Groom's Occupation] in Truro, and I thought_________________________________________ ______________________________________________________________[Funny or quirky aspect about grooms occupation] Neil is a man who has dedicated his life to __________________[Grooms occupation] And now I'm sure will use his experience with ___________________________[what the Groom does in his occupation] in his marriage with Claire.

It is great that Neil found Claire. He has always been looking for someone young, dynamic, intelligent, attractive, and with good health insurance. Neil and Claire met_________________________ [where they meet], But I have it on good authority that Neil started looking for a wife on the internet. And with a multitude of resources at his fingertips, he found some really great stuff, but sadly was unable to find himself a suitable partner. That is, until I mentioned to him that the correct category to be looking should be Woman Seeking Man.

I explained the way it works, send an old picture when you still had lots of hair, lie about your height and weight, and at all other times be sincere and honest. I imagine that when Neil and Claire met and introduced each other he said I'm Neil and she said, "I need a Diamond." So, Neil said, sure let's pick one out. Claire is a Diamond. Neil is a gem; I think together they make beautiful jewellery.

No Marriage would be complete without some brotherly advice to help set you on your way… So I canvassed the room and got some really good stuff for you!

Love, honor and cherish each other, and don't forget to take out the garbage.

Your wife is always right.

Just in case she is not right, refer back to #2.

Always, yes always, notice every new hairstyle or dress.

Do something nice for each other every single day.

If she asks if something makes her look fat the answer is categorically, NO.

Flowers are always a good Idea, even if you are not in trouble.

There is really nothing better than a good foot rub or massage.

Your wife is more important than sports. I guess. Even the cup final.

It is a great joy for me to see Neil and Claire so happy. You learn things when you get older. Hmmm, I mean more mature. You make better decisions, isn't it great that two people would entwine and commit to each other for life. Love, isn't that what it is all about? We are here to celebrate that glorious event and this ceremony is all about letting the world know how much Neil and Claire's love for each other is a reflection of one's own soul in another's. Anyway, it is time to celebrate the joyous and unbridled love that these two spectacular people will share the rest of their lives. Would you please stand now and join me in a toast.

To love and laughter and happily ever after."
Best Man Speech One-Liners
One-liners are sharp jokes delivered in one sentence. A good one-liner is concise and meaningful. It is instant but loaded with humor that can keep the guests laughing for a while. It is important that the best man speech jokes contain one-liners.
Funniest examples of wedding speech one-liners:
I am about to make the groom cry. I just received the food bill.
He is smart, tall, kind, generous….. Who am I actually talking about?
Hi, the groom is a great friend. Our friendship is 2hours old. I was hired as he's got no friends.
His colleagues describe him as a first-class banker- I may have misheard them.
I heard some time that marriage is a 50/50 affair. Believe that at your own peril. We have factors called women and improper fractions.
I asked for a microphone and none was available. If you can't hear me from the back, follow the reactions of those at the front.
My palms are wet, I am nervous. I'm sure my fear can be felt 10yards away.
Dear groom, you're a good and great man. You're loving and kind and….. Please groom, could you read out what you wrote here?
To be honest, I don't have any good thing to say. Give me a round of applause as I go back to my seat.
This has been a beautiful and emotional evening for us all. Even the cake is in tiers.
Top Quality Best Man Expressions For Your Inspiration
Samples of the ultimate quality Best Man Speech examples for your inspiration include the following:
Short And Simple Best Man Speech
"Since I have everyone's attention I'd love to say a few words to this amazing couple sitting right in front of me. For those who don't know me, I'm Ed. Mike's closest friend and sidekick. We've known each other for about 11 years and have been on many adventures together. During that time, I got to know him well and can honestly say, he is the most selfless and stand-up guy I've ever met. I am thrilled to be standing here and celebrating him and his beautiful bride, Linda.

I am sure this union between two honest and caring people makes you all smile. Let's raise a glass for everlasting love! Thanks for making us all part of this beautiful day."
Best Man Speech For Brother
"Good evening, hope everyone is having a good time tonight. I feel very privileged and honored to be standing here tonight celebrating this lovely union. Two years ago, Matt gave the best man speech at my wedding and made a lot of awkward jokes. So needless to say, I've been waiting for this moment for a really long time! For those who don't know, I am Matt's brother, Mike.

I first met Matt when I was two years old at our parent's house in Boston. To be quite honest, I wasn't thrilled because I really wanted a sister. And I think he knew because Matt would do ridiculous things like throw my toothbrush in the toilet, pour water at me when I was asleep and run across the room naked when I had any friends over. This made me less popular than I already was.

Matt always excelled in school, was captain of the debate team (apologies to Cara, but he can argue his way out of anything!) and can make a mean steak. The truth is, despite him being an annoying brother at the time, I came out winning in the end. Because of him and this beautiful night, I am getting the sister I always wanted. Cara, you're beautiful and our family loves you so much. Thank you for making my brother so happy.

Let's celebrate this amazing union and raise a glass to the newlyweds! On behalf of the groomsmen and bridesmaids, we'd like to wish you a life full of love, happiness, and joy.

To everyone who made tonight happen, thank you. You've made this night very special."
Best Man Toasts That Add Sparkle And Spirit To The Best Man's Speech
"It's been an emotional day, even the cake is in tiers."
"Folks, I have been told I am not allowed to have a drink until AFTER my speech. If I seem like I'm in a hurry to finish, it's because I am."
"I hope the two of you have the two essential things it takes to have a successful marriage 1) a sense of humor 2) selective hearing."
"Psychiatrists say that girls tend to marry men like their fathers. That must be why mothers cry at weddings."
"Love is not about how often you say I love you, but how often you show that it's true."
"Loyal, caring, sincere, honest, a great man… but that's enough about me, I'm here to give a speech about [grooms name here]!"
"True love is our soul's recognition of its counterpart in another."
"You don't marry the person you can live with; you marry the person you can't live without. Which is exactly what [bride] and [groom] have done, so let's raise a glass to them."
"May your love be modern enough to survive the times but old-fashioned enough to last forever."
Best Man Speech Writing Tips In Infographic