Home
Authors
Posts by DEER PEARL FLOWERS
Rose gold unique engagement rings are something special. This rings style is very stunning and tender at the same time. Many unique details, beautiful...
Wedding updos have been the top hairstyle picks among brides of all ages worldwide. This phenomenon is easy to explain: updos are not only...
The wedding reception entrance is something that all anxiously await. It's up to you to make your wedding reception entrance special. Trying something out...
The fall wedding season is approaching and it's high time to do the last preparations and add some touches that are missing. If you...
Vintage wedding ideas aren't hard to find these days, but it's sorting through ALL the options that can get a bit draining! So, we...
Dear bride-to-bes, we are back again with a gorgeous gallery of bridal updos for you! Russian hairstylist Vera Krsteva is our latest Instagram hair inspiration feed...
Ooh la la! Get excited to see these absolutely gorgeous wedding decor ideas. I'm obsessed with the romantic red accents and soft colored florals...
Getting married in the great outdoors practically guarantees a glorious backdrop. So why not let the setting of your outdoor wedding inspire the theme,...
If your big day is getting closer and you have chosen the rustic wedding concept for your most special day, you can get inspired...
Navy and green has become the new standard in neutrals. Choosing green is one of the easiest and most affordable things you can...
Wedding nails should be on top of your list if you want it to be perfect on your marriage day. Every girl dreams of...
If you're lucky enough to have long, luscious locks, you should show them off on your special day. While leaving your hair down may...
Do you dream of wearing a on your special day? We can't wait to help you find the dress of your dreams to make your...
Mountains are fantastic, I totally love all that natural beauty in any season. Many couples agree with me choosing mountains as a destination for...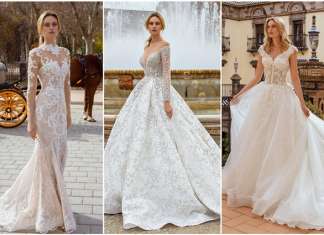 I'm always so excited to bring you new and fabulous bridal fashion from around the world, and today I have an amazing international fashion...
We're always trying to uncover the most beautiful things for your wedding.  It's hard work, but somebody has got to do it! Just kidding,...