Home
Authors
Posts by DEER PEARL FLOWERS
Milla Nova Wedding Dresses 2020 are here! This is the Milla Nova 2020 "Milla by Lorenzo Rossi" bridal collection for you. Featuring dazzling lace,...
Wedding hairstyles are an important part of any bridal image. If you haven't quite decided on your wedding hairstyle, this section is for you!...
We talk quite a bit about boho brides around here, but today, it's all about free-spirited styling ideas for your bridesmaids!
If there is a wedding theme that always looks chic, fresh and romantic, this is for sure the greenery one. Using olive branches, boxwood...
Dreamy full moon shaped arches are the hottest floral trend for 2019. Floral moon gates make a pretty epic backdrop for your vows but...
The 2019 wedding season will be here before you know it and don't you want your wedding to have that extra spark? Ignore the...
I'm always so happy to talk wedding trends and how wedding couples choose certain wedding decor and floral trends to create customized details that...
Source: mumuweddings With the trend of modern weddings steadily becoming more commonplace, it can be nice to revert back to more traditional, approchable styles. Warm...
You have the perfect ring. Now, get that 'gram you always dreamed of. If you just got engaged, chances are you'll be sharing the great news through...
To achieve a natural look on your wedding day, swap a floral bouquet for one with lots of foliage instead. Opt for simple green...
Looking for inspiration to create a gorgeous wedding hairstyle? Get inspired with our collection of wedding hairstyles by Hair By Hannah Taylor.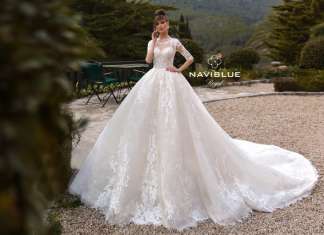 Designers of the trademark NAVIBLUE brilliantly combine classic shapes and current trends in their wonderful collections. Wedding dresses are constructed using the unique pattern...
Hello, brides! We can all agree that the wedding cake is clearly the belle of your reception and not to mention, the grand focus...
Decorate table with cool geometric items! These can be geometric centerpieces with glass sides filled with succulents or flowers, these can be just metallic...
Nature has never looked so good with these timeless green stems. If there is a wedding theme that always looks chic, fresh and romantic,...
Looking for a few bohemian wedding ideas to take your big day to the next level? We're here to help. From pampas grass to...