Home
Authors
Posts by DEER PEARL FLOWERS
Bring a burst of romance to your big day by incorporating wow-worthy light fixtures into your wedding decor. We're sharing our favorite wedding lighting...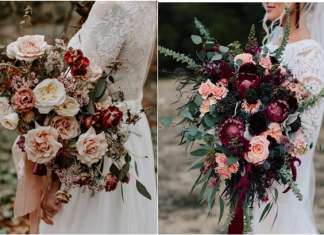 Forget the bouquet toss! You won't want to let go of these these beautiful fall wedding bouquets, let alone chuck one across the reception...
Formal group photos at weddings are always fun (and a must of course), but the wedding photos you're going to look back on and...
If you're in need of decorating ideas for a barn wedding, look no further. Barn weddings are becoming more and more popular for all...
From sisters and best friends to roommates or work wifeys, your bridesmaids are your backbone for always putting up with your craziness & tantrums....
Rust is trending hard for 2019 weddings. We just love this rich, throwback color which is so current yet also so retro and 70s...
Milla Nova Wedding Dresses 2020 are here! This is the Milla Nova 2020 "Milla by Lorenzo Rossi" bridal collection for you. Featuring dazzling lace,...
Wedding hairstyles are an important part of any bridal image. If you haven't quite decided on your wedding hairstyle, this section is for you!...
We talk quite a bit about boho brides around here, but today, it's all about free-spirited styling ideas for your bridesmaids!
If there is a wedding theme that always looks chic, fresh and romantic, this is for sure the greenery one. Using olive branches, boxwood...
Dreamy full moon shaped arches are the hottest floral trend for 2019. Floral moon gates make a pretty epic backdrop for your vows but...
The 2019 wedding season will be here before you know it and don't you want your wedding to have that extra spark? Ignore the...
I'm always so happy to talk wedding trends and how wedding couples choose certain wedding decor and floral trends to create customized details that...
Source: mumuweddings With the trend of modern weddings steadily becoming more commonplace, it can be nice to revert back to more traditional, approchable styles. Warm...
You have the perfect ring. Now, get that 'gram you always dreamed of. If you just got engaged, chances are you'll be sharing the great news through...