Top 8 Modern Wedding Theme Ideas for 2019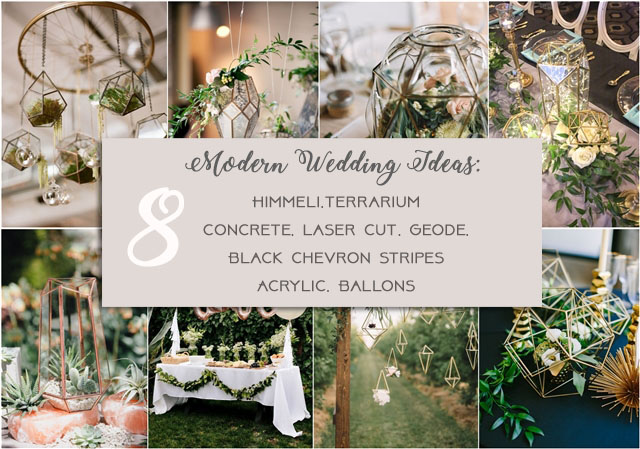 A modern wedding celebration should scream "right now!" Sleek lines, dramatic uplighting, and décor dripping in crystals are all staples at contemporary weddings. Here I'm talking 8 of our fave modern wedding themes, from geometric centerpiece, chevron stripes wedding dresses to insanely simple acrylic decors.  Needless to say: enjoy.
Be sure to click each photo to discover further inspiration from each event.
#1. Himmeli Geometric
Himmeli is a traditional Finnish Christmas decoration, but I guess these forms have been popularize as new modern, sleek decor.


Photos via  2017 Modern Wedding Trend: Himmeli Geometric Wedding Details
#2. Terrarium Geometric


Photos via 2017 Modern Wedding Trend: Terrarium Geometric Details & Ideas
#3. Cement / Concrete
Concrete is durable and absolutely affordable, and it has a sleek modern look, besides there are several shades to choose from.


#4. Laser Cut
In the past few years, one popular wedding trend has been laser cutting. It's a look that can evoke classic luxury or a modern sophistication, depending on how it is utilized.

#5. Geode
Geodes, stones and crystals are one of the hottest trends in the wedding world right now.

#6. Black Chevron Stripes
Black and white (are you noticing a trend here?) with pops of color is always gorgeous.


Photos via 45 Black and White Wedding Ideas to Love
#7. Acrylic / Lucite
Lucite décor is the great mix of a minimalism and modern style. Create lucite place cards, table numbers and menu cards which will be perfect additions to other table settings.

#8. Ballons
Balloons are a MUST in any modern fairy tale… the bigger, the better!

Photos via 35 Giant Balloon Wedding Ideas For Your Big Day