[tps_header]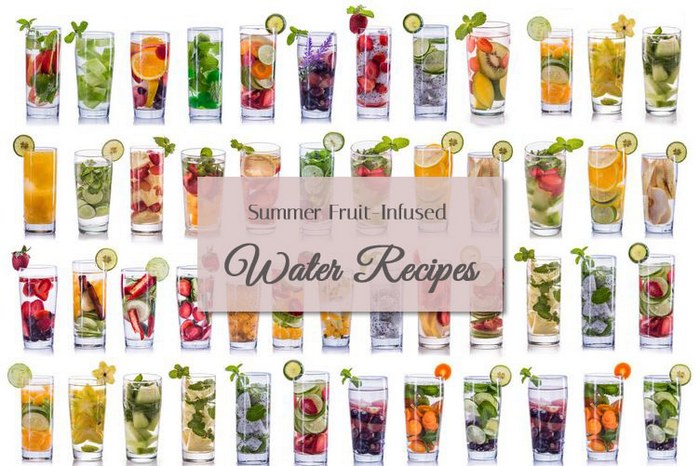 Don't forget to repin these images to your favorite Pinterest board
Feature image via 
The Produce Mom
[/tps_header]
These simple detox water recipes are inexpensive, have almost zero calories, and taste great too! Also called detox water, fruit flavored water, or fruit infused water;infused water can generally be any combination of fruits, vegetables, and herbs immersed in cold water.
Trade in your regular bottle for healthy fruit and herb flavored water combinations that will give your drink a big boost of nutrition.
  Fruit Infused Water


Source via Sheuncovered
Infused Water Combinations


Recipe via Earth911
Lemonade Recipes for Summer


Recipe via Potterybarn
 Infused Water Combinations



Recipe via Earth911
Frequently asked questions about infused water
How long should I infuse the water?
A good rule of thumb is to infuse for 1-2 hours at room temperature or in the fridge for 3-4 hours to achieve potent flavor and water color. Do you like your water really fruity and tangy? You can infuse overnight or up to 12 hours!
How long do infused waters last?
The best way to go about it is to drink your infused water the same day or the next day to extract the maximum benefits. However, bear in mind that you can actually store it in the fridge for up to 3 days.
Ensure you remove the infused fruits from the water after the first day to prevent them from decomposing in the water and potentially creating a bad taste.
Why does my infused water taste bitter?
Your infused water likely tastes bitter because of rinds found on citrus fruits. To avoid this bitter flavor, simply cut the rind off with a knife before infusing. Or, do not infuse fruits with rinds for over 4 hours. Trust me, if you infuse lemon slices with rinds for 3 days, your water will be too bitter to even sip!
Should I use cold or hot water?
Some fruit infusion products out there say to pour boiling water over your fruit. While this method may produce fast and furious results, it's better to use cold or room temperature water. Hot water destroys the fragile enzymes and vitamins in fruit that are beneficial to your health. And hot water will also make you fruit fall apart and look a lot less pretty. So, be sure to use cold or room temperature water!
Are there any nutritional benefits to drinking infused waters?
Absolutely! Nutrients leak out of the fruit directly into the water. Some nutritionists estimate that you get as much as 20% of the vitamin content of freshly squeezed fruit juice, all without he extra calories or fructose. In addition, fruits are naturally rich in antioxidants, so you'll also be consuming a variety of naturally occurring antioxidants when you drink infused water. Basically, it's like making your own "vitamin water" but without the cost or hidden ingredients. Teas such as green tea or chamomile are also antioxidant-rich, so adding tea to your recipes just adds to the goodness.