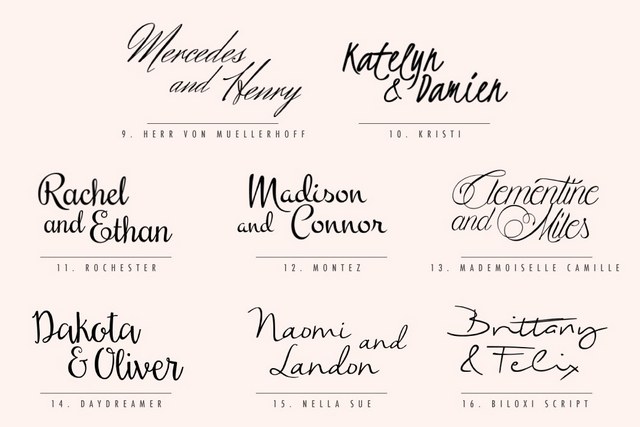 80+ Free Calligraphic Script Fonts for Wedding Invitations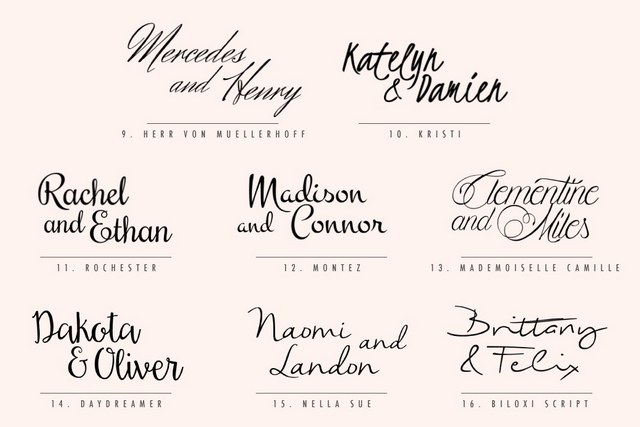 All the fonts listed below are absolutely free for personal use (some are free for commercial use, too – check the license!) which means you can use any and all of these to your heart's content in your DIY wedding invitations, save the dates, envelopes and more – the sky is the limit!
The links to the fonts are below the image, so you can easily pick these fonts up for yourself!

1. Plates Napery
2. Masana Script
3. Allura
4. Arizonia
5. Dancing Script
6. Euphoria
7. Great Vibes
8. Windsong
9. Herr von Muellerhoff
10. Kristi
11. Rochester
12. Montez
13. Mademoiselle Camille
14. Daydreamer
15. Nella Sue
16. Biloxi Script
17. Notera
18. Qaskin
19. Austie Bost Dreamboat
20. Brayden Script
21. Janda Stylish Script
22. Mardian
23. Xiomara
24. Quickier
25. Everything Holiday
26. Some Weatz
27. Brotherhood Script
28. Yaquote Script
29. Coneria Script
30. Castro Script
31. Aligot de Mirabelle
32. Sverige Script
33. Black Olives
34. Tamoro Script