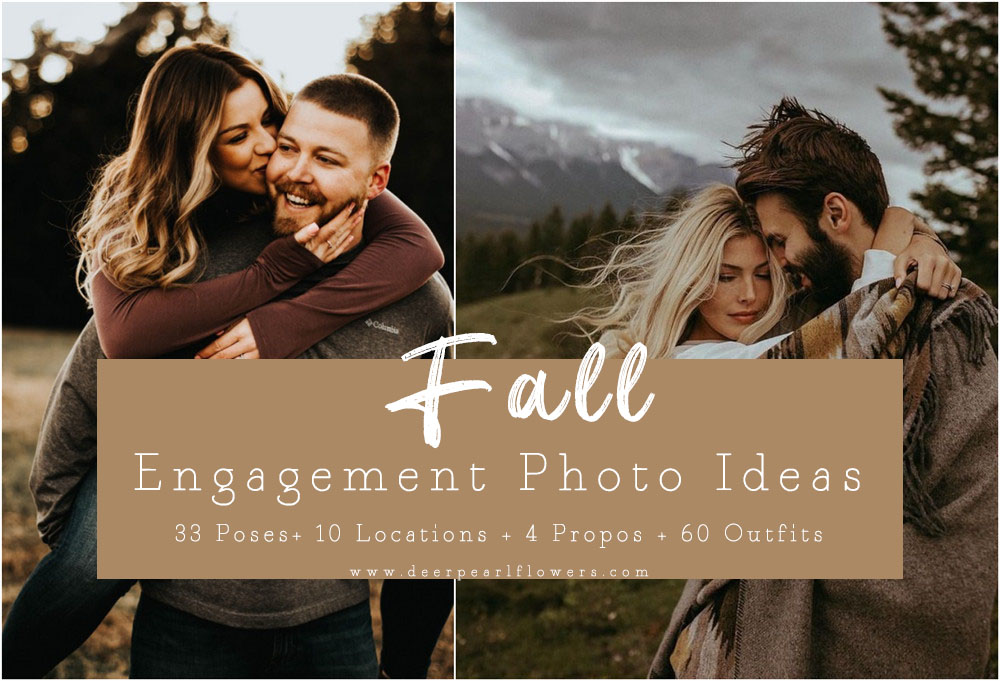 60 Best Fall Engagement Photos & Poses for 2022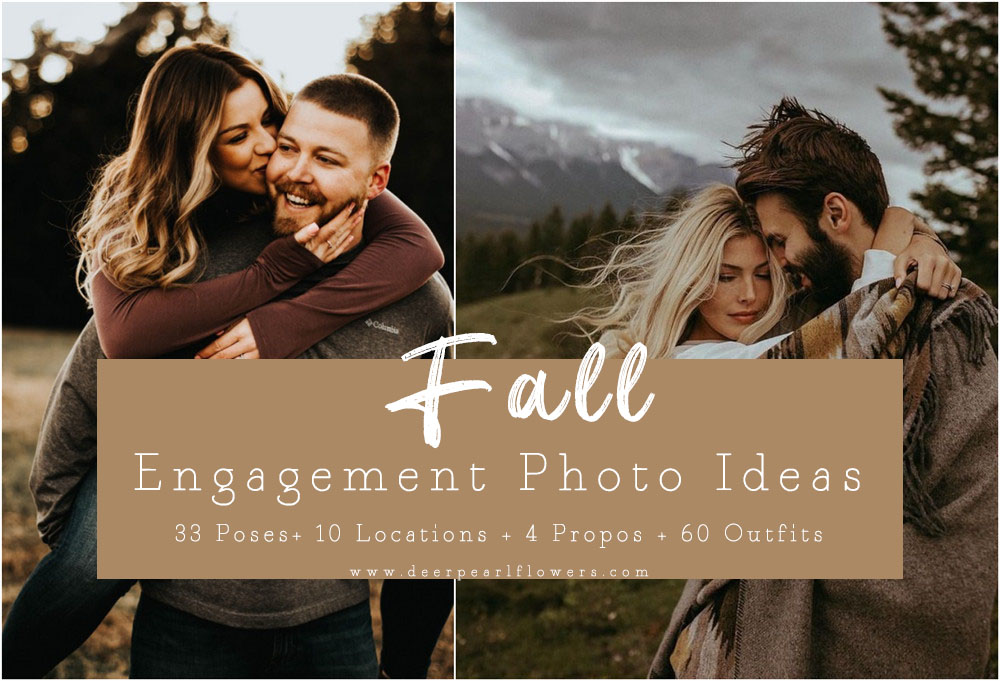 What do I love about fall?
Autumn
is a romantic time to shoot engagement photos. Beautiful warm colors of
leaves
and trees, cool weather, cozy cardigans, plaid blankets, sitting in front of the fireplace with cocoa and many other cute things. That's why fall engagement pics are among my favorite ones – so much color, love and coziness! Here are 60 fun ways to personalize your session while heading outside. Get inspired!
Fall Engagement Photo Locations
Your Favorite Spot: Have a go-to coffee shop where the barista knows both of your orders? Or a brewery where you meet for happy hour every week? Use these personal spots as inspiration for your engagement shoot to save the memories of these places for years to come.
Your Next Vacation: Planning a trip together (engagement-moon, anyone?) is one of the most exciting parts of prepping for your big day. If you're heading to a particularly gorgeous location, find a photographer in the region who can snap some shots in front of that city skyline or national park mountainside.
Your First Date: You'll feel all the feels with this one. Revisit the spot of your first date together for a few of your photos, even if it's for your eyes only.
1. Country
– Bottle up the charm of a simple country scene.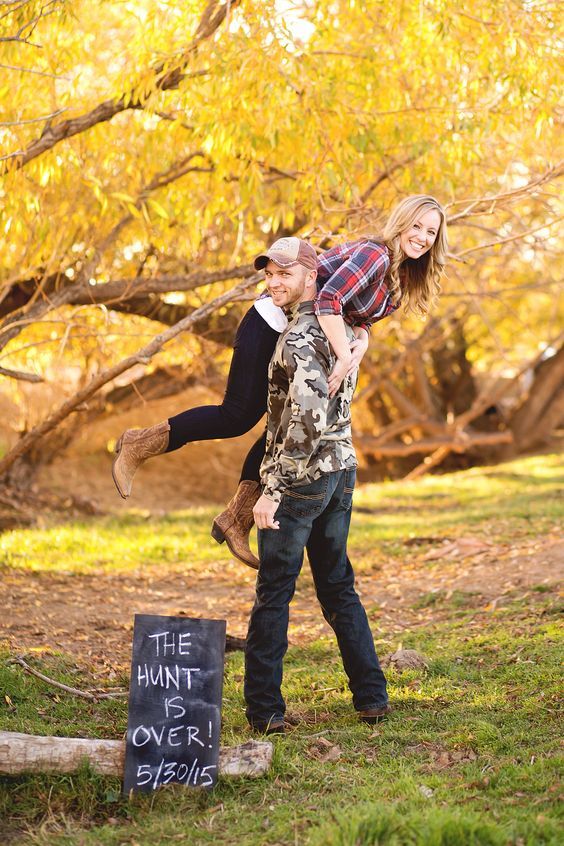 2. Beach
– The natural elements of a beach shoot always produce beautiful pictures.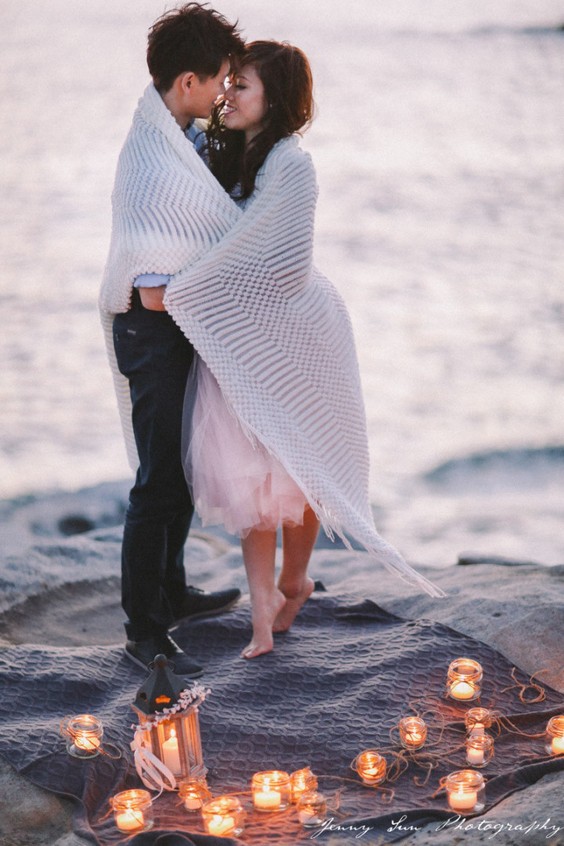 3. Mountain
– Striking vistas turn your snapshot into true art.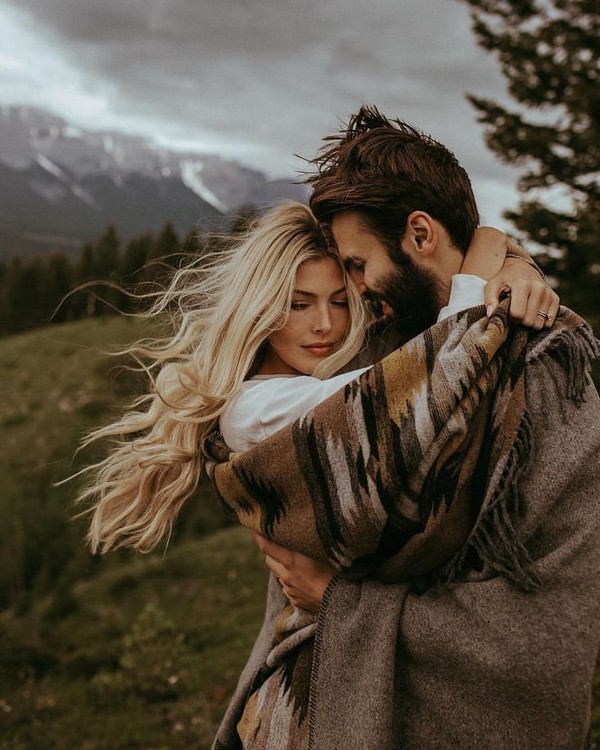 4. Forest
– Get lost in the woods together – but not really. You need to know your way out!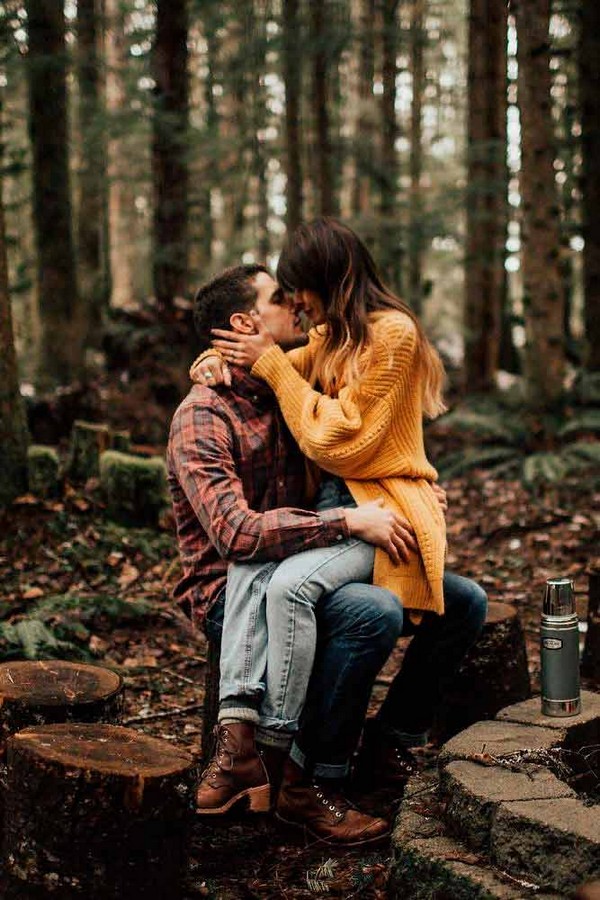 5. Wildflower Field
– Wildflowers just feel romantic – take advantage of them!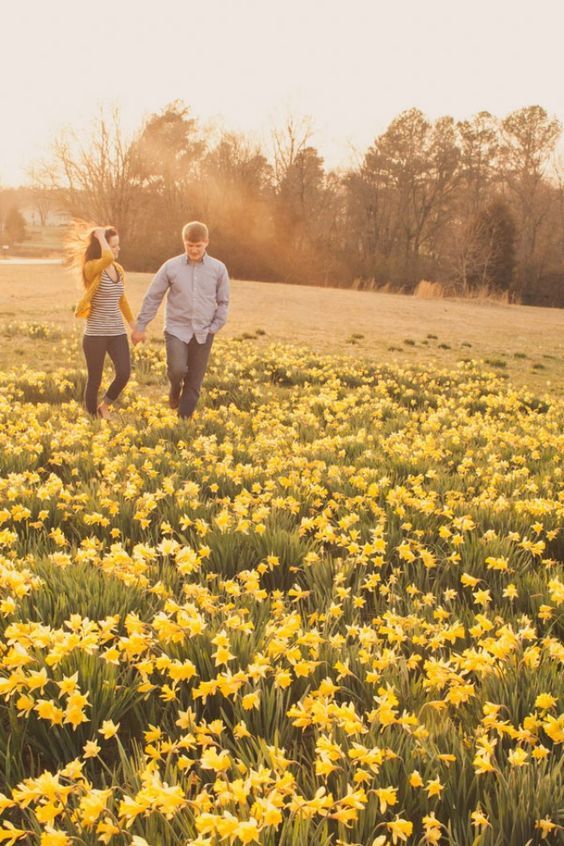 6. Lake
– A lake can help you get that reflection shot, or provide a sweet dock scene.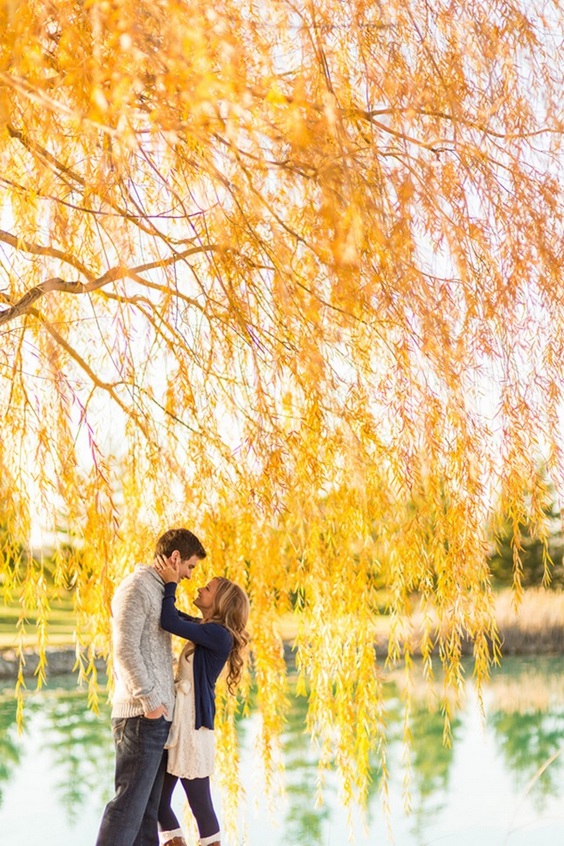 7. Barn
– If you decorate in a rustic style, find a barn for your next set of couple poses.
8. Train Tracks
– Train tracks are a classic for a reason. However, don't forget to check permissions and be extra careful when utilizing train tracks for your couple poses.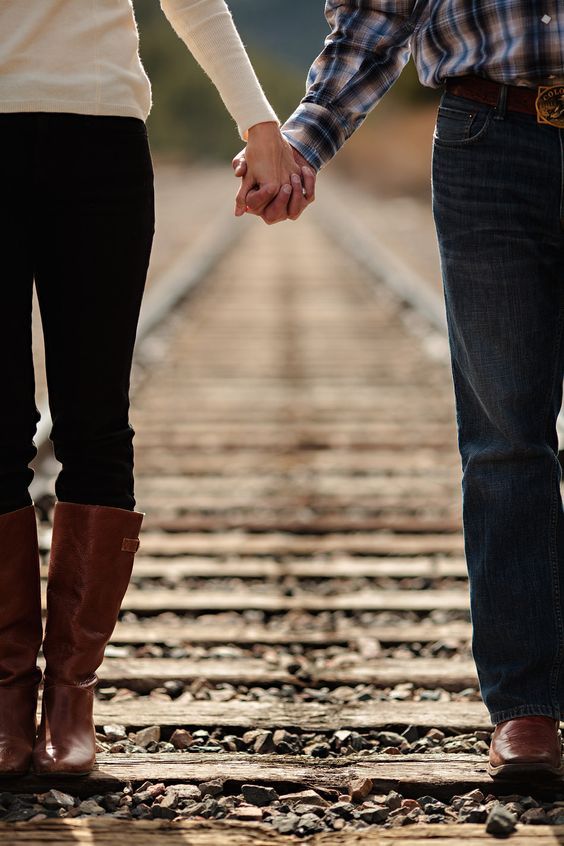 9. Boat 
– Get close and cozy with a couple pose in a boat!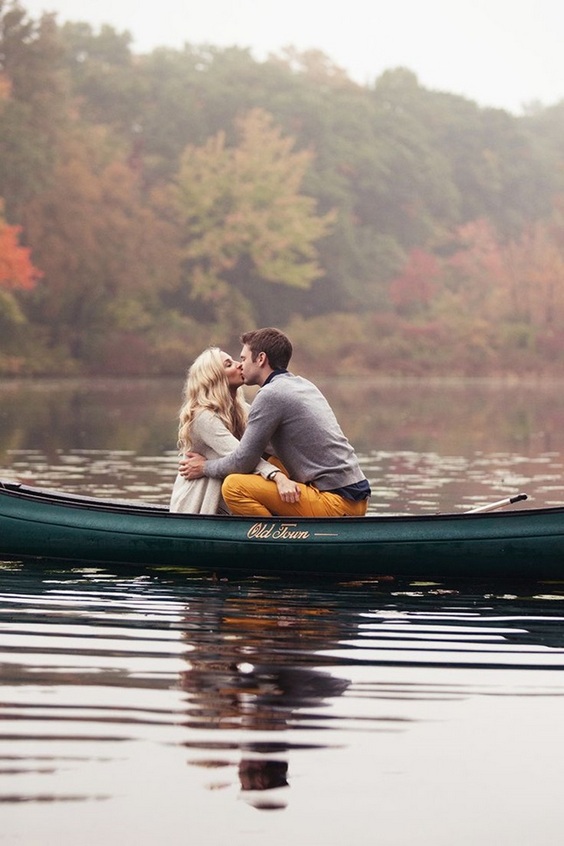 10.Harbor or Pier
– Head back out to the water for stunning views.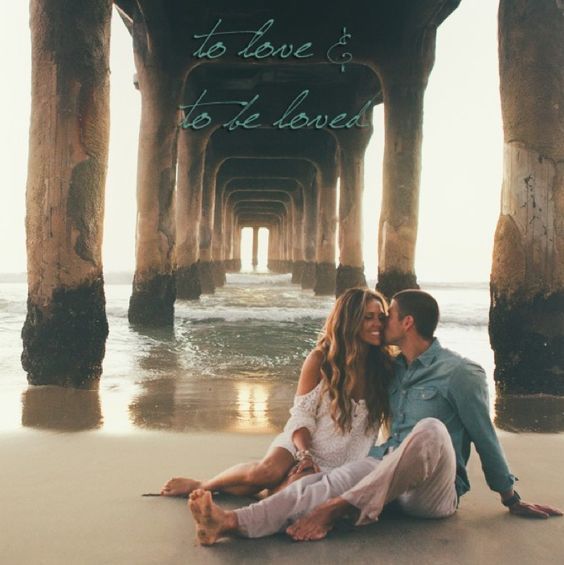 Autumn Engagement Photo Poses
From simple hand holding to sexy, bikini-clad kisses, showing off some public displays of affection always makes for a sweet photo. Pretend like the photographer isn't watching and embrace your partner the way you would when you're alone—as long as it's G-rated.
Be prepared for your shoot by:
Having some poses already picked out. Save them on your phone to show your photographer OR email them over to him/her in advance.
Practice some poses at home to see what feels comfortable for you.
Be willing to try something new! You never know what will turn out incredible in front of the camera!
Tell your photographer how you're feeling during the shoot. Their goal is to make you feel good because then you'll look good! Don't be afraid to communicate.
Check out these gorgeous fall engagement photos and get inspired.
1. Arm Around Neck
– This is a natural pose that demonstrates both comfort and connection.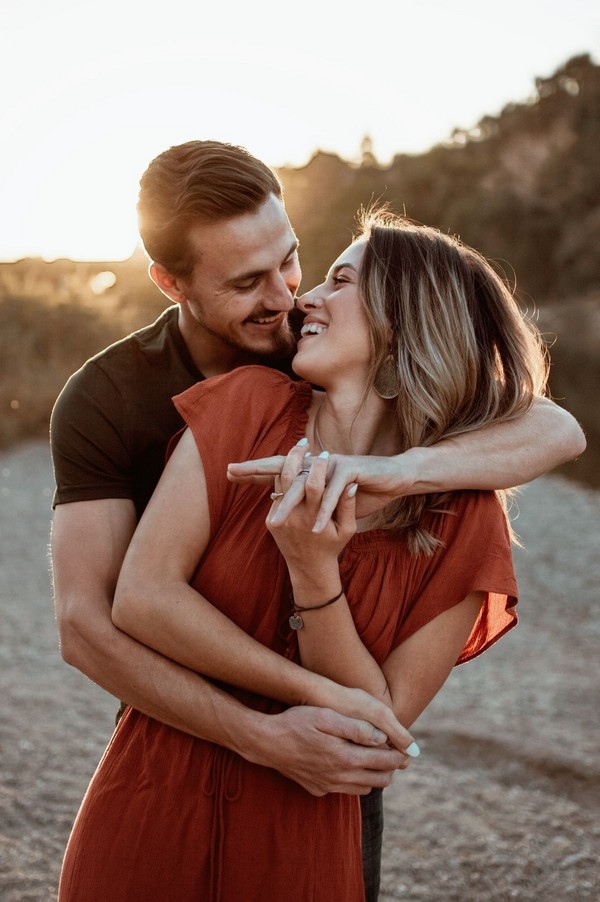 2.Hand on Cheek
–  So tender, but no actual PDA if that's not your thing.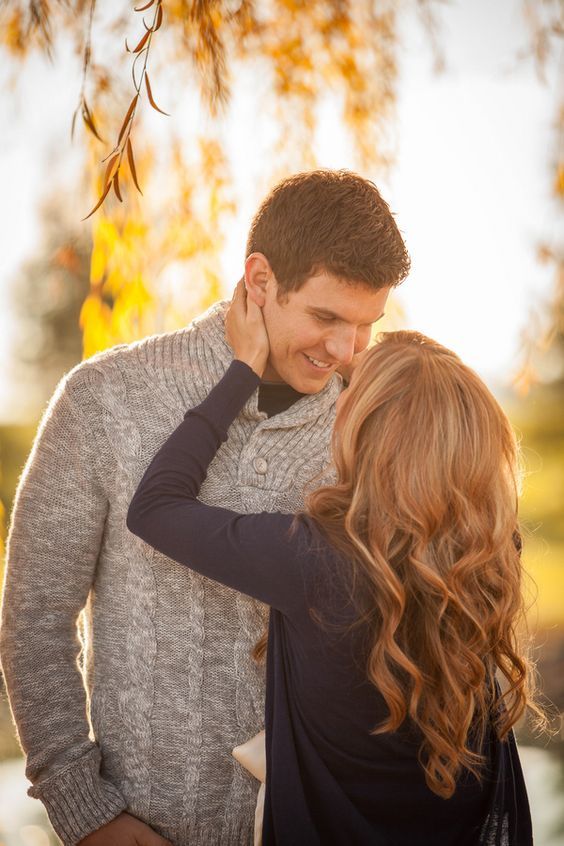 3. Hand on Chest
–  A perfect relaxed hug.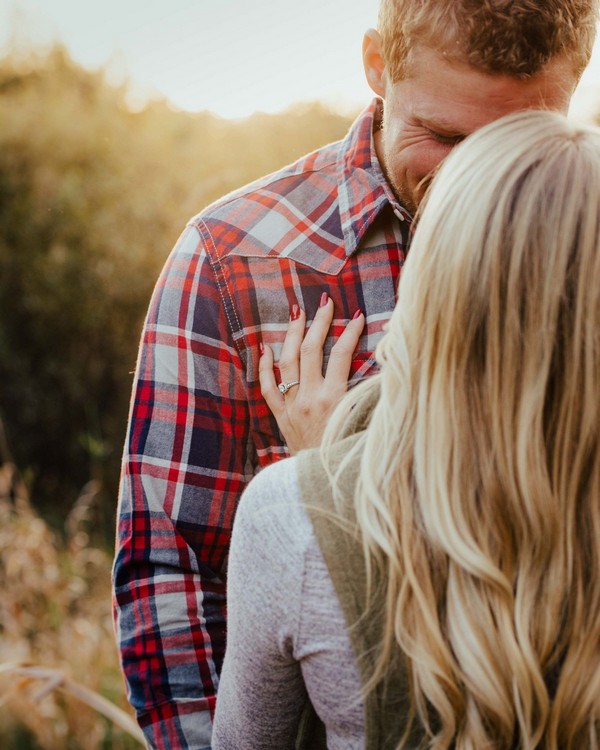 4. Hand on Back of Head
–  Relax into the one you love while caressing their hair.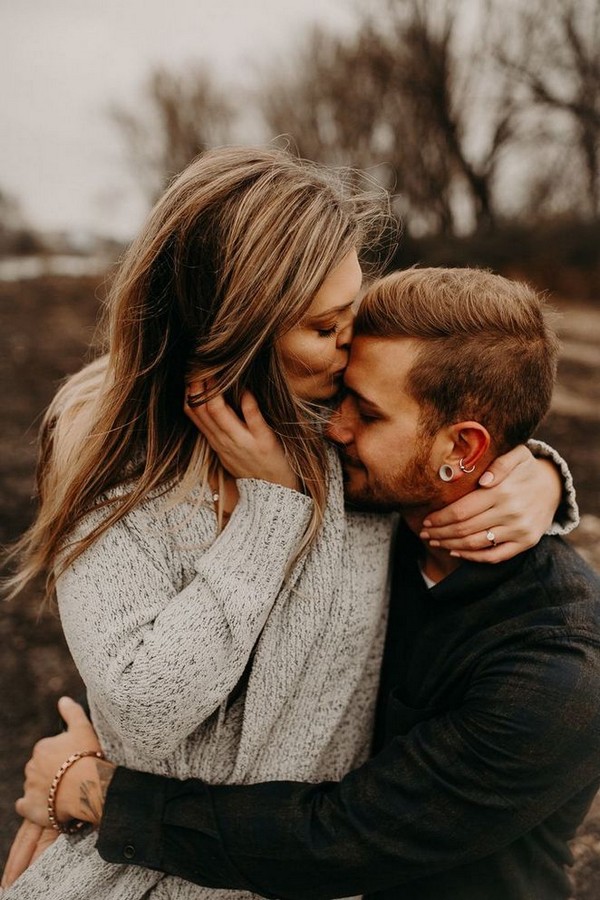 5. Head on Shoulder
– One of our favorite cute couple poses – especially if there is a height difference!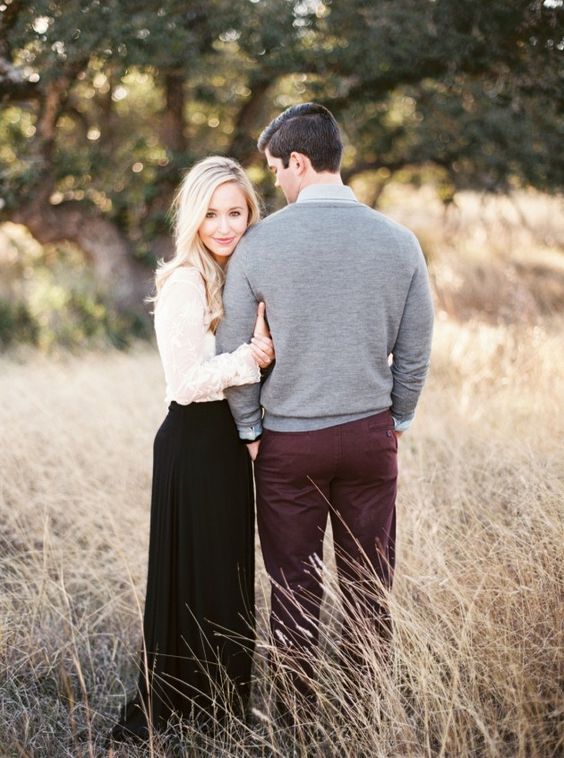 6. Arms From Behind
– Snuggle in close from behind with this classic couple pose.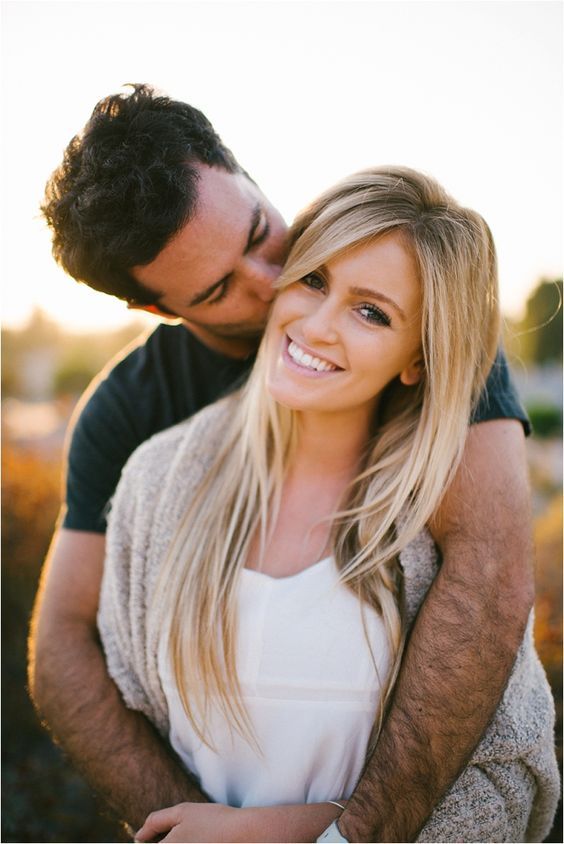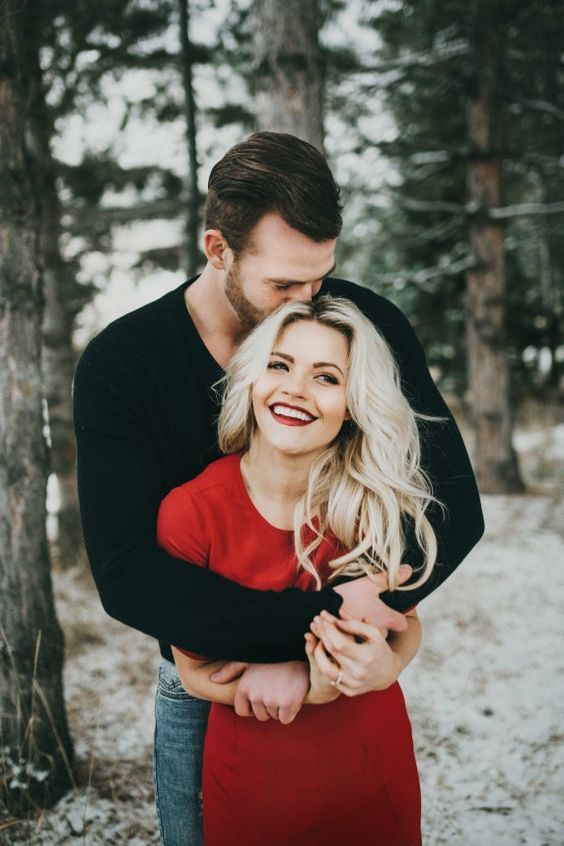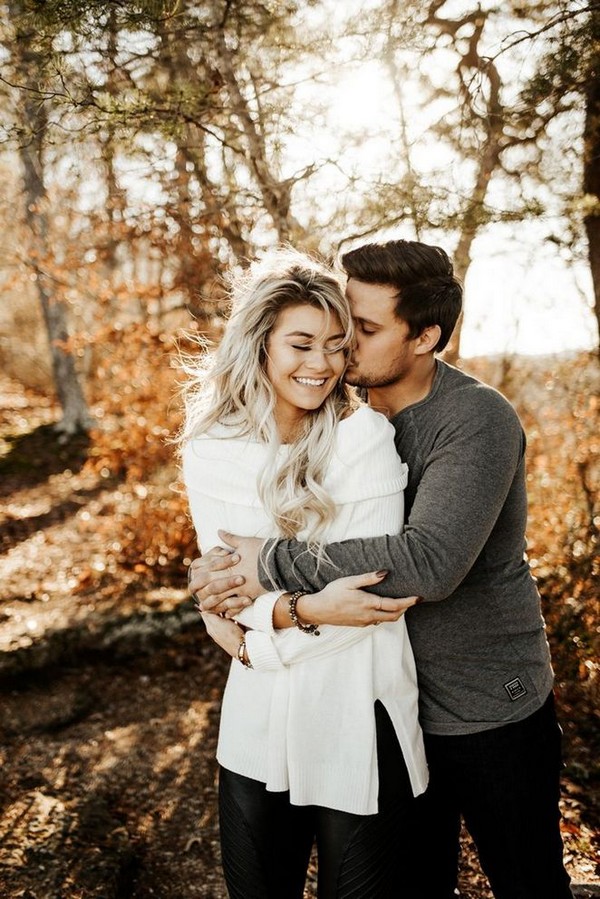 7. Arms Around Waist
– Allow yourselves to just focus on each other with this sweet arm hold.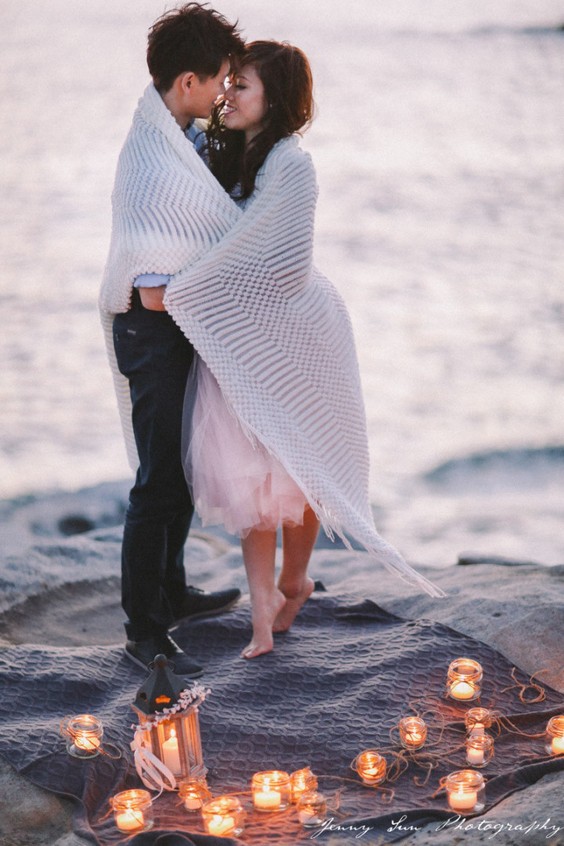 8. Wrapped in His Arms 
– Get cuddled up in your favorite place – his arms!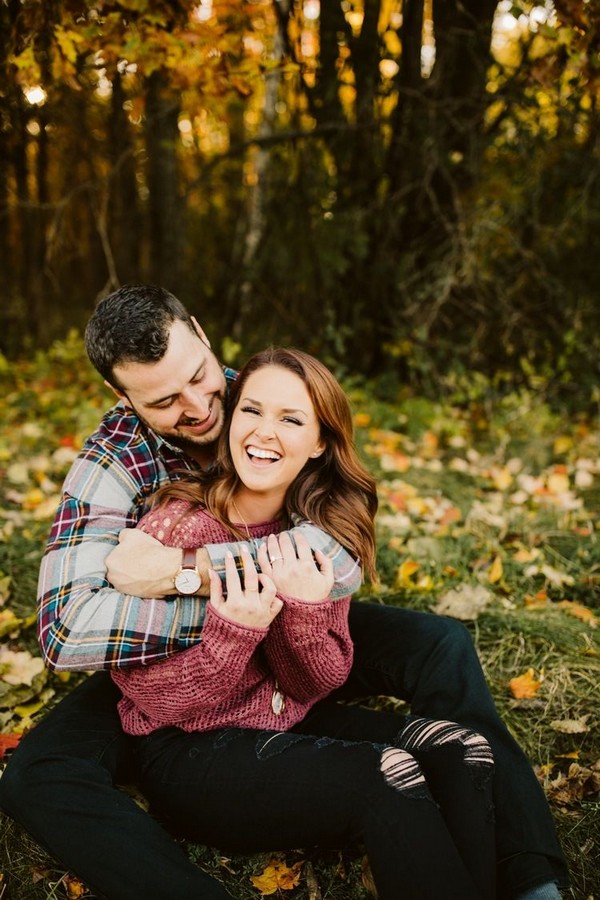 9. Arm in Arm Couple Poses
– Often paired with walking, link those arms.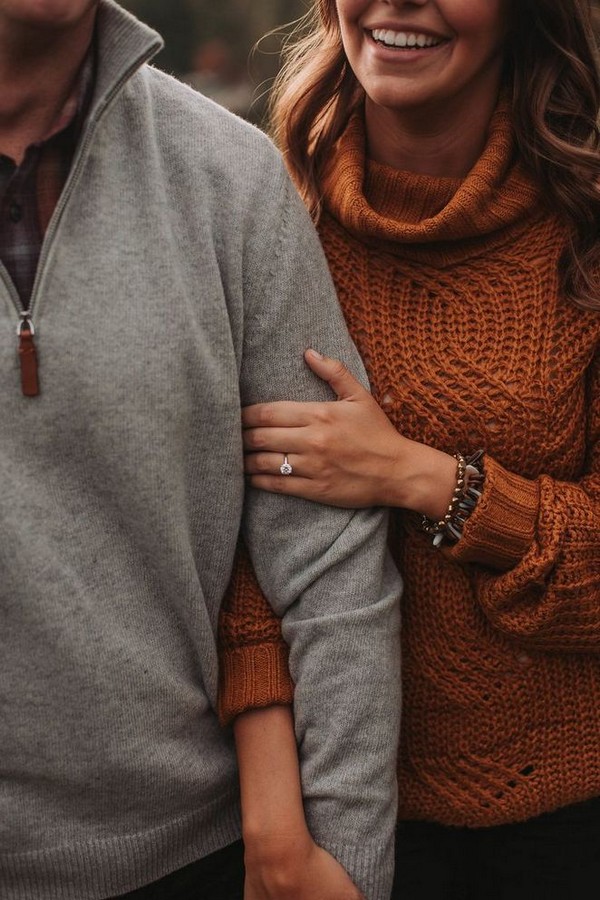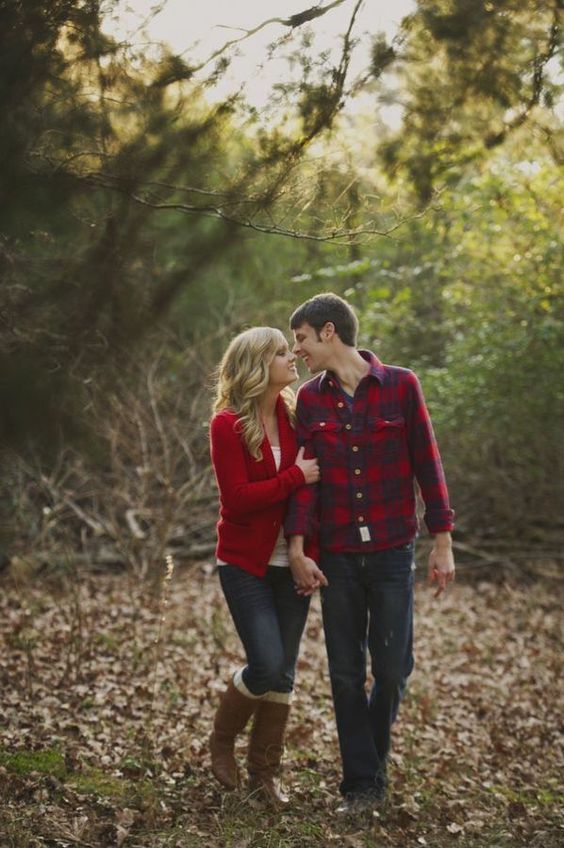 10. Only the Girl Looks
– Focus on the eyes of the girl in this couple picture idea.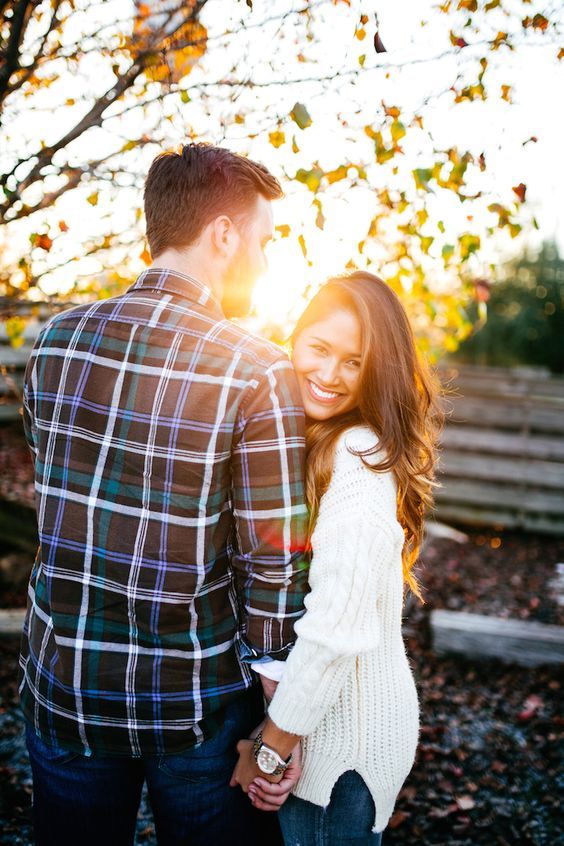 11. Right Before Kiss
– Nervous to kiss in front of the camera? Just get close to it!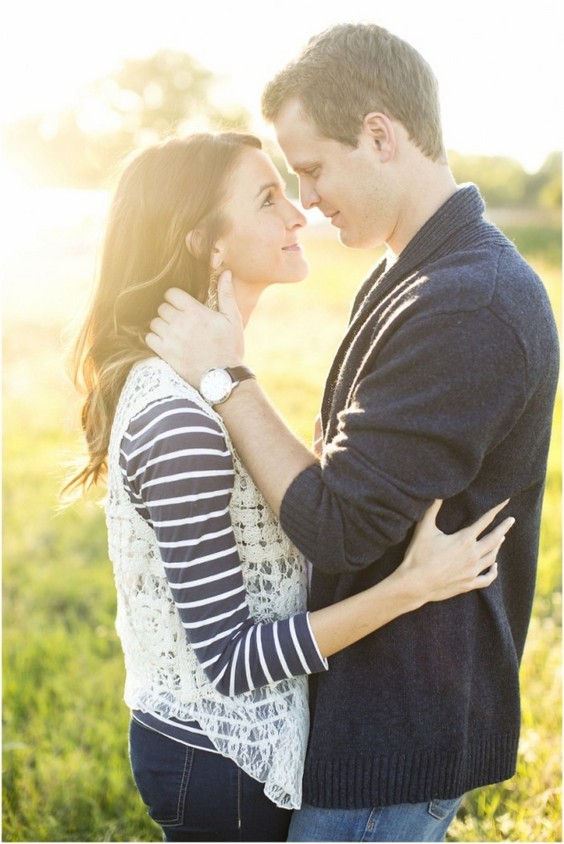 12. Kissing Couple Poses
– If you're that close to your sweetie's face, follow through with a sweet smooch! Make sure your lipstick doesn't transfer!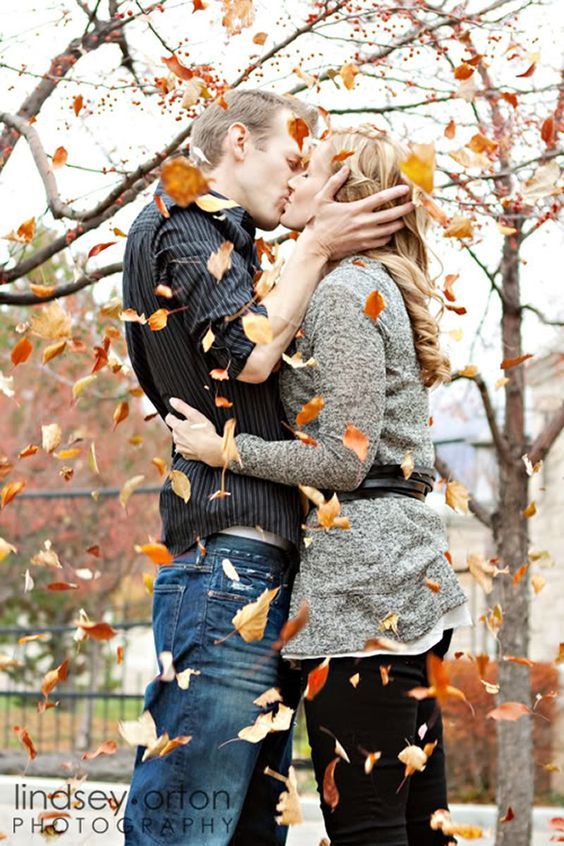 13. Hide the Kiss
– Play coy by hiding your affection with a prop.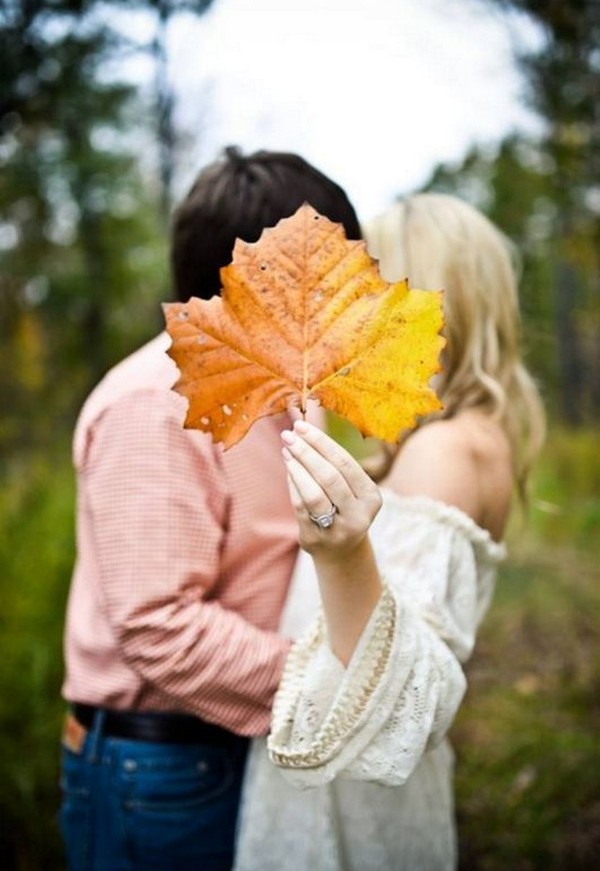 14. Cheek Kiss
– Keep that kissing momentum going with a peck on the cheek.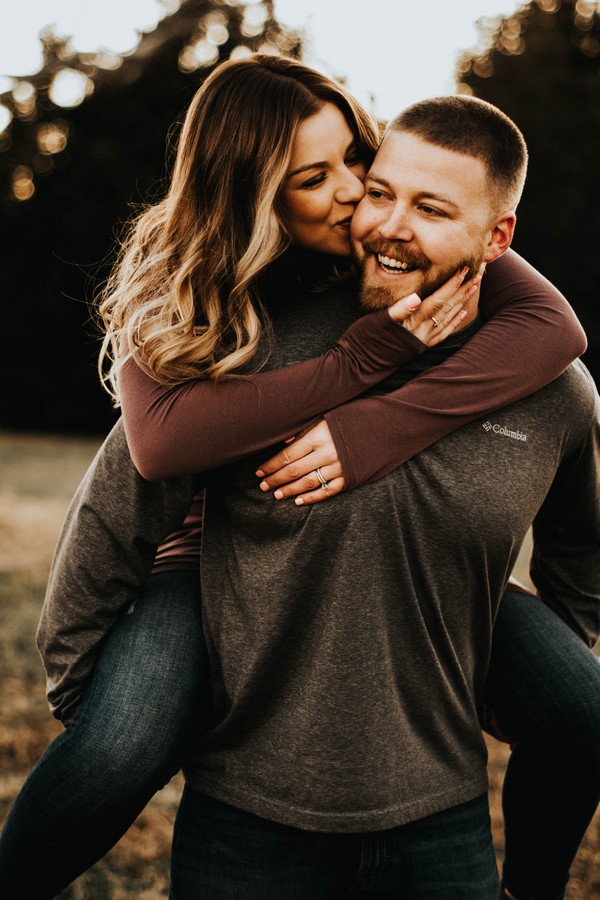 15. Forehead Kiss
– Why are forehead kisses so tender? Capture that love.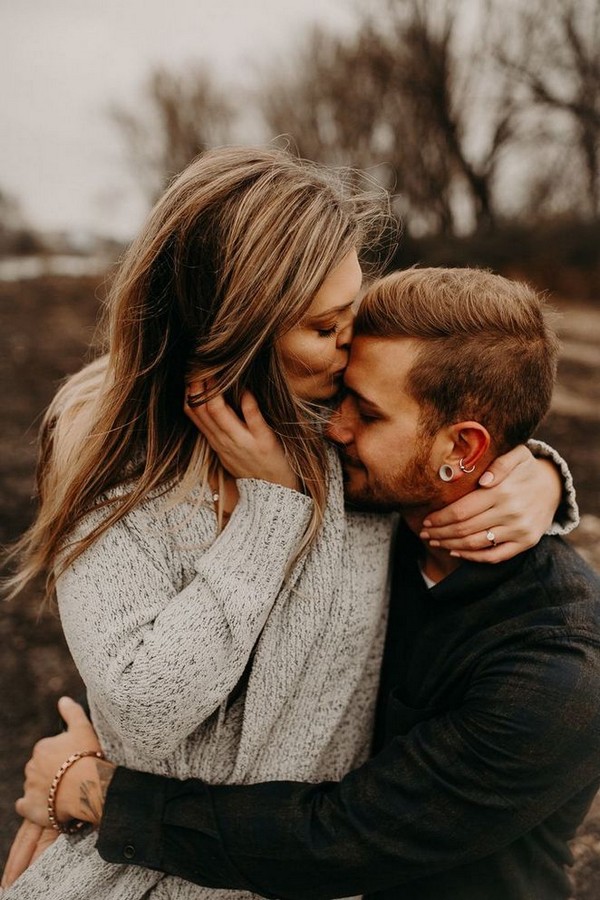 16. Nose to Nose
– The best couple poses have chemistry. Keeping your faces close will be sure to help that.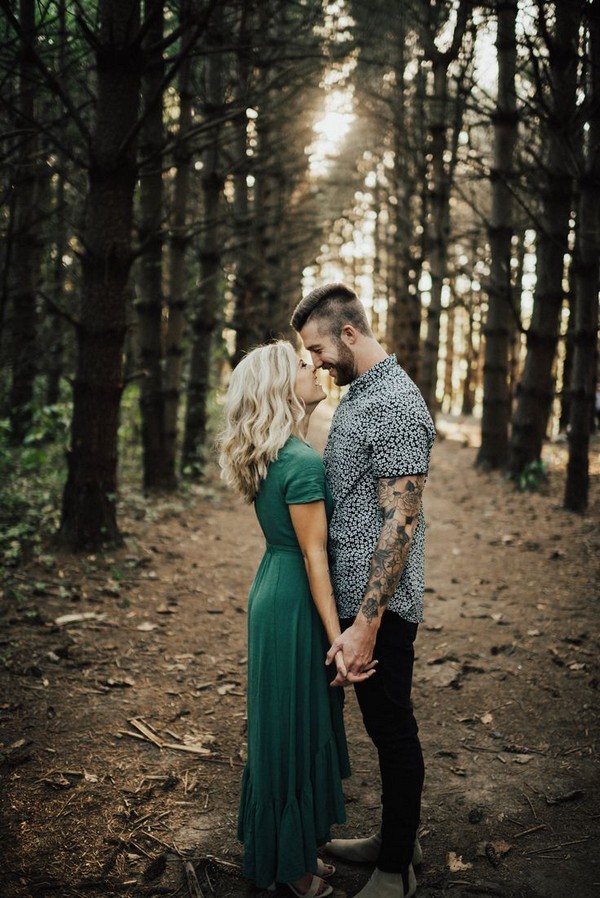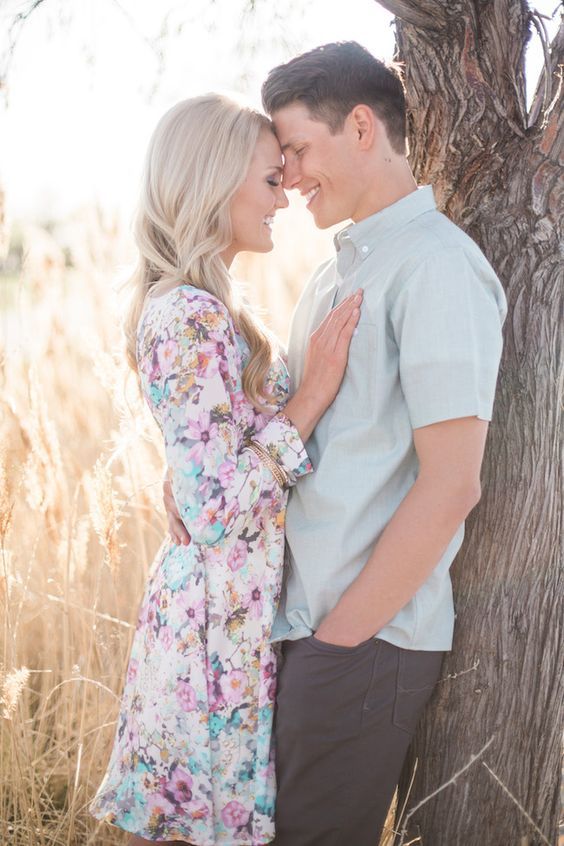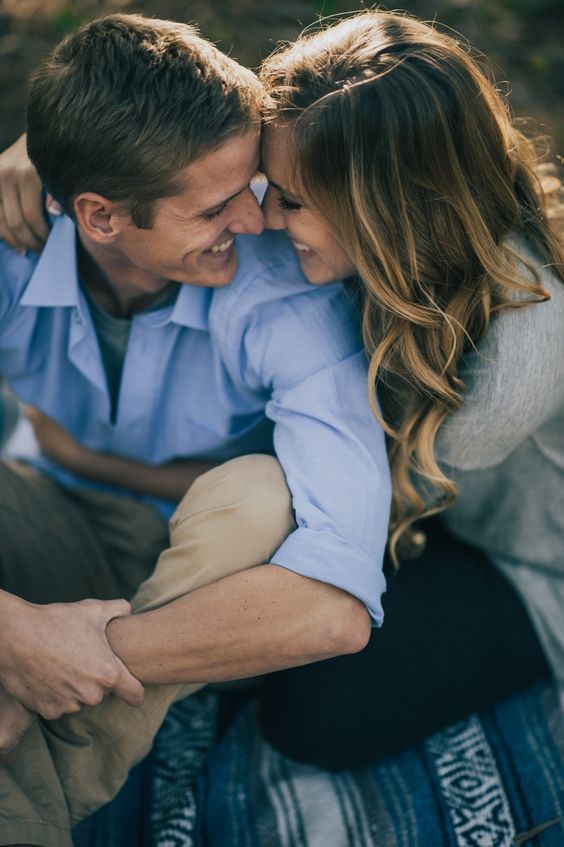 17. Cheek to Cheek
– Keep that love bubbling up but dancing cheek to cheek!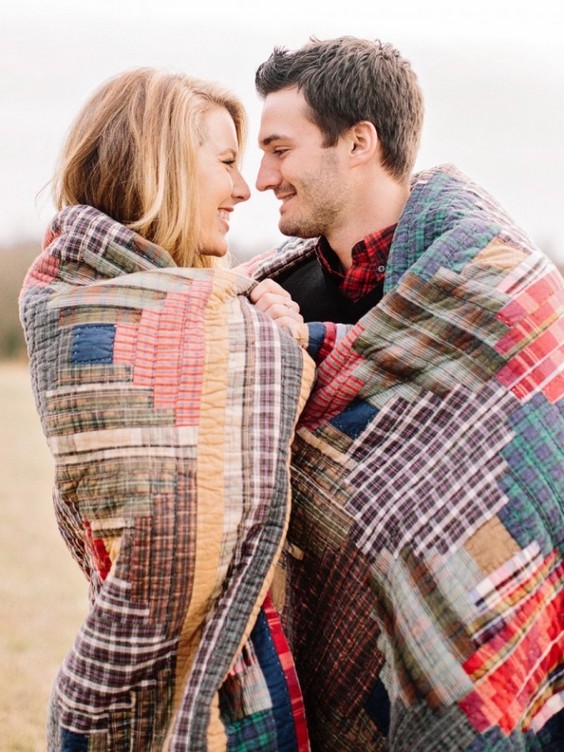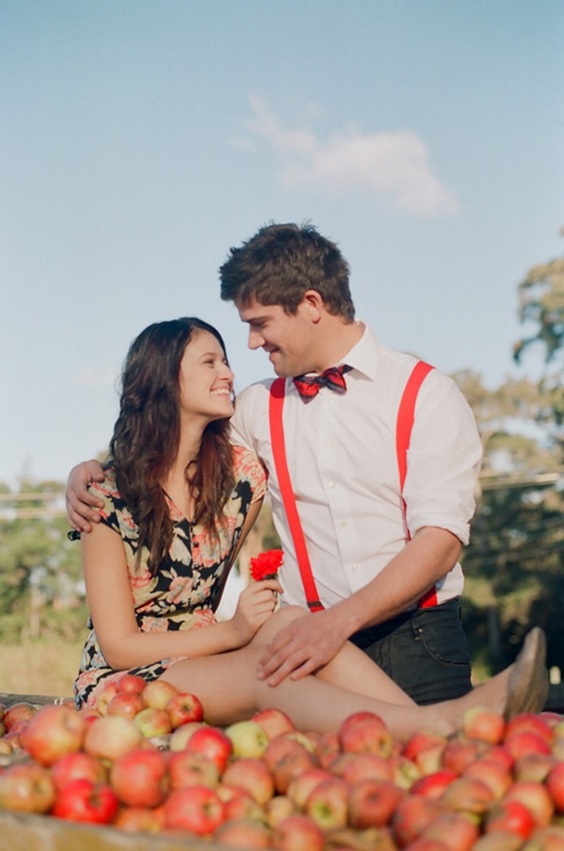 18. Forehead to Forehead
– This is another prime time to allow that chemistry to flow.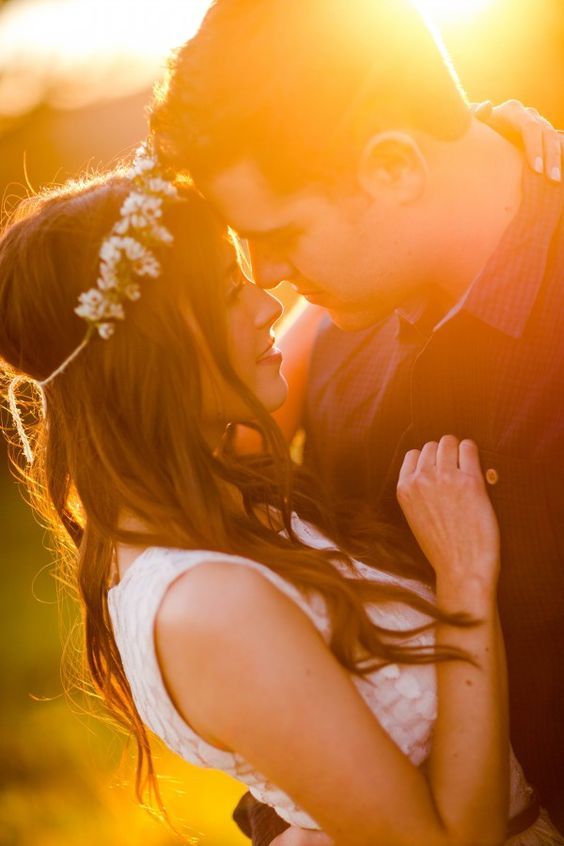 19. Hugging Couple Poses
– Pretend the camera isn't there and start hugging and playing around.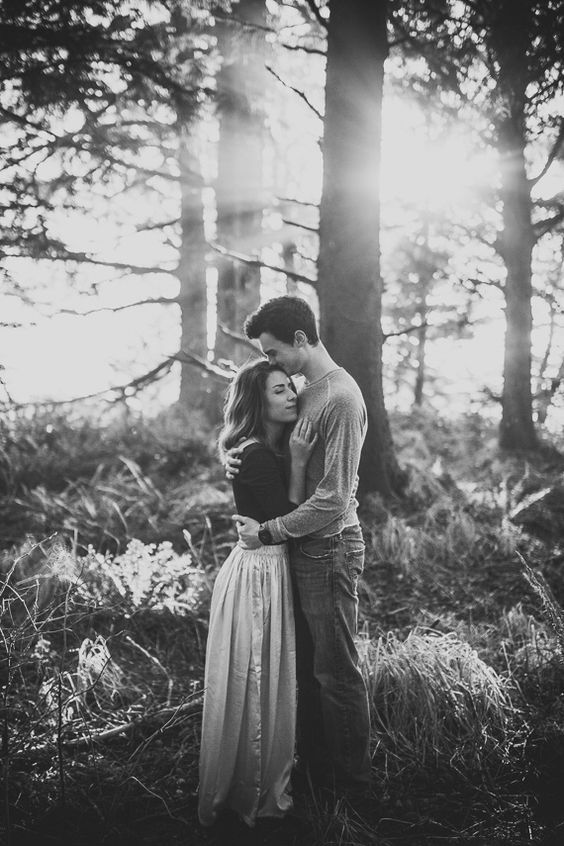 20. Holding Hands
– Hold those hands and look carelessly in love!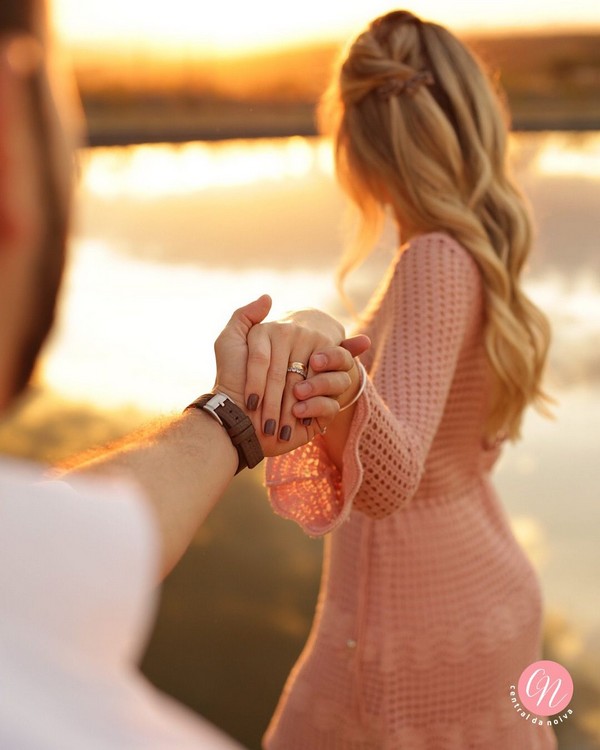 21. Showing Off the Ring
– You can show off your pretty ring even if you've been married for years!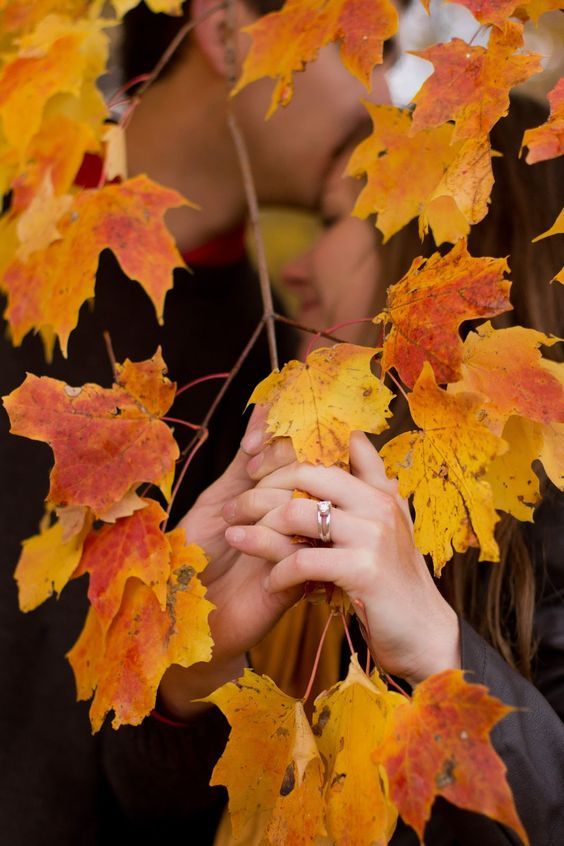 22. Sitting On Lap
– Have a seat on your sweetie's lap.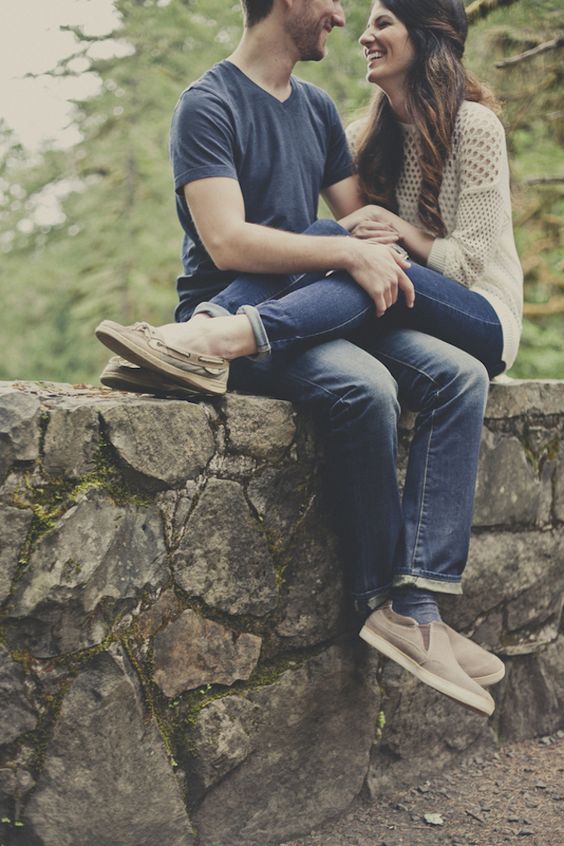 23. Lying in Lap
– Take it on down with this laying down couple's pose.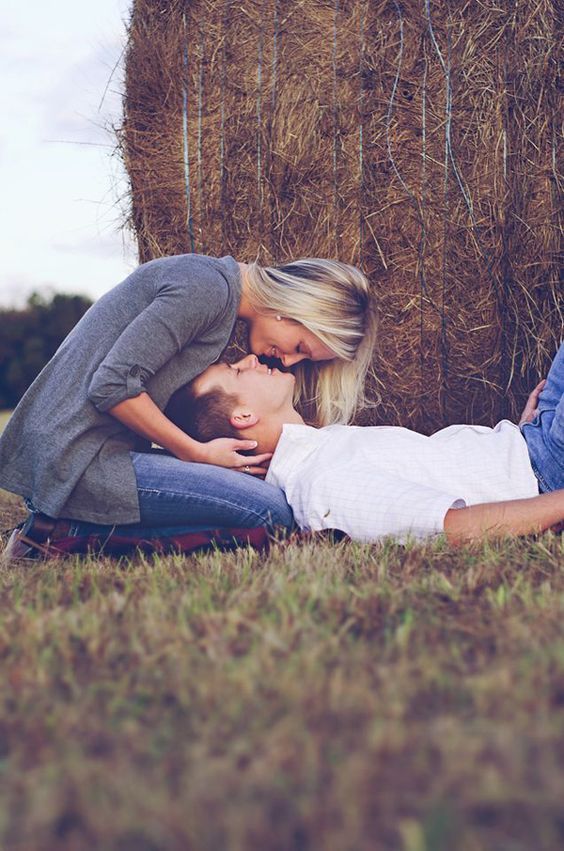 24. Lying on Backs  
– Gaze together at the sky and relax.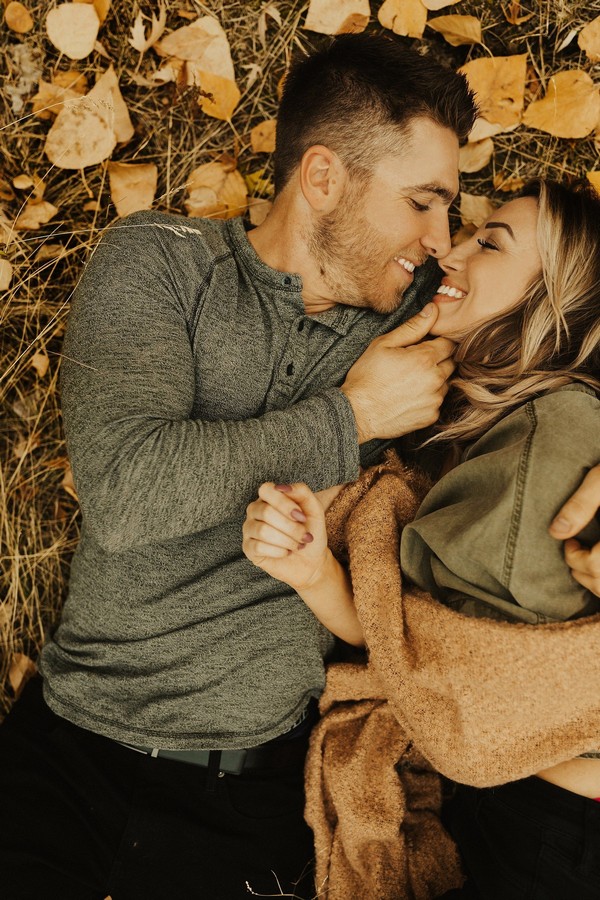 25. Cross-Legged 
– A few different poses while sitting help mix it up.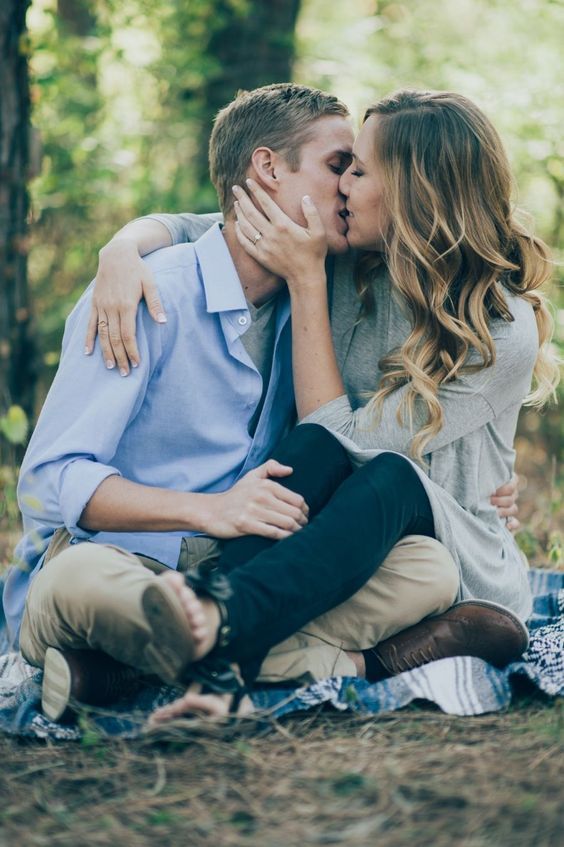 26. Walking Couple Poses
– Walk and talk for some sweet photos.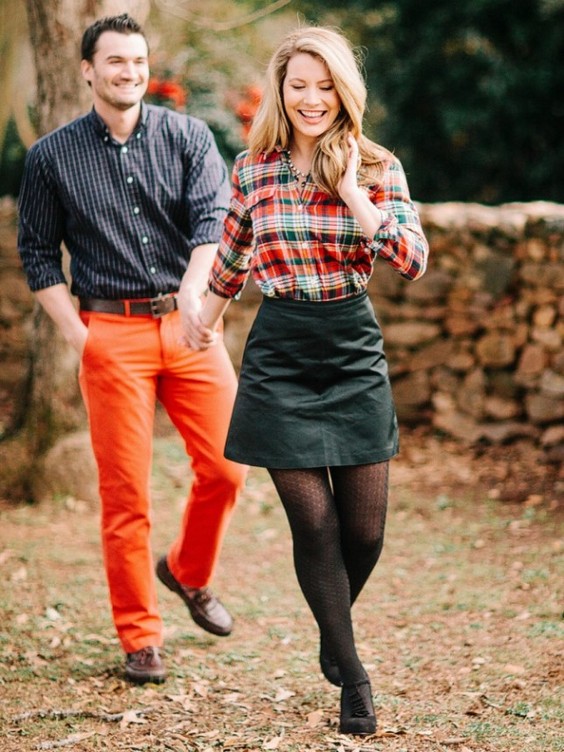 27. Lift
– Is there anyone who doesn't want to be lifted up into the air by their babe?! #Romantic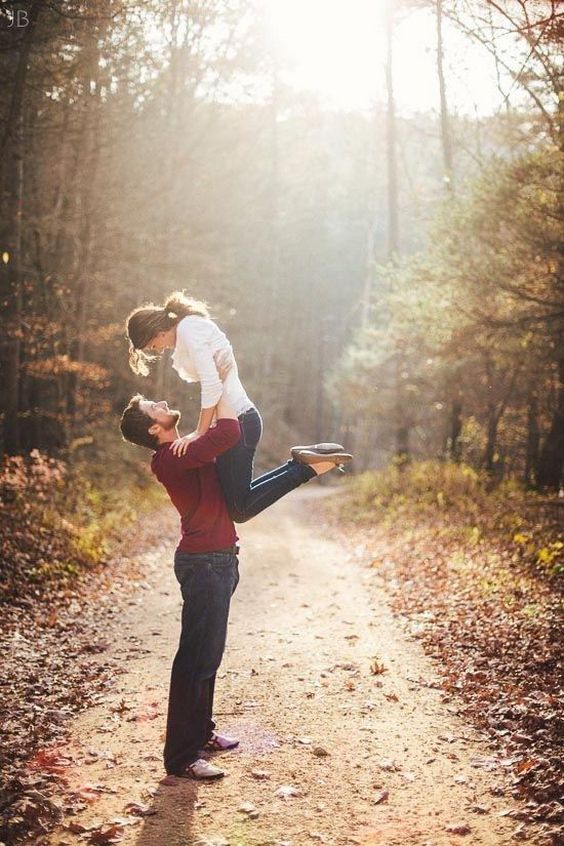 27. Piggy-Back Ride
– Take a ride and have fun with this pose.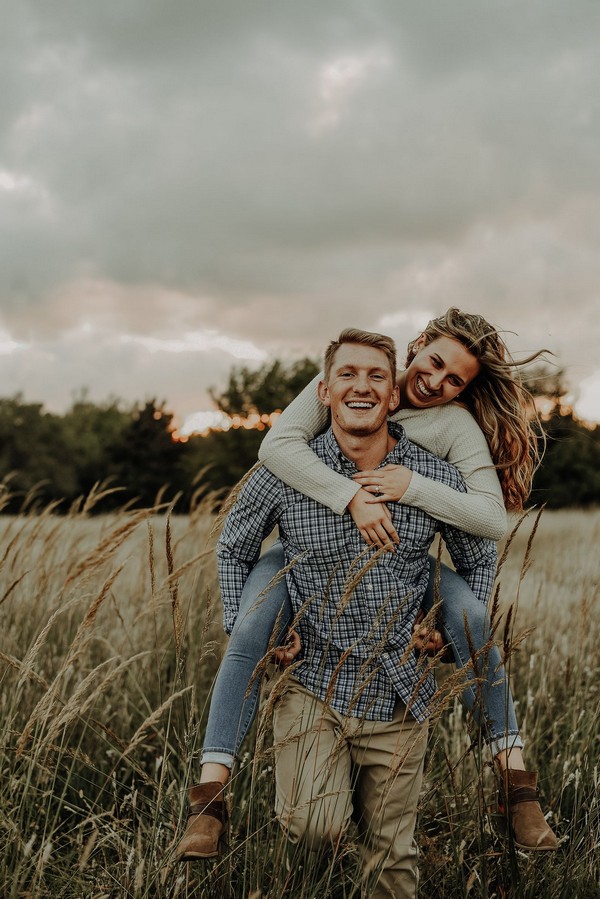 28. Tippy Toes Couple Poses
– Another couple pose that works best with a height difference.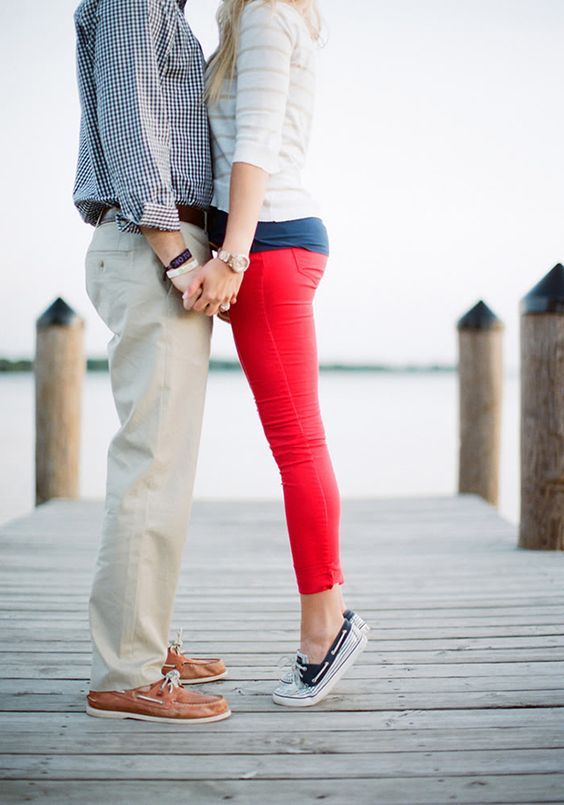 29. Reflection
– Play with nature and a body of water.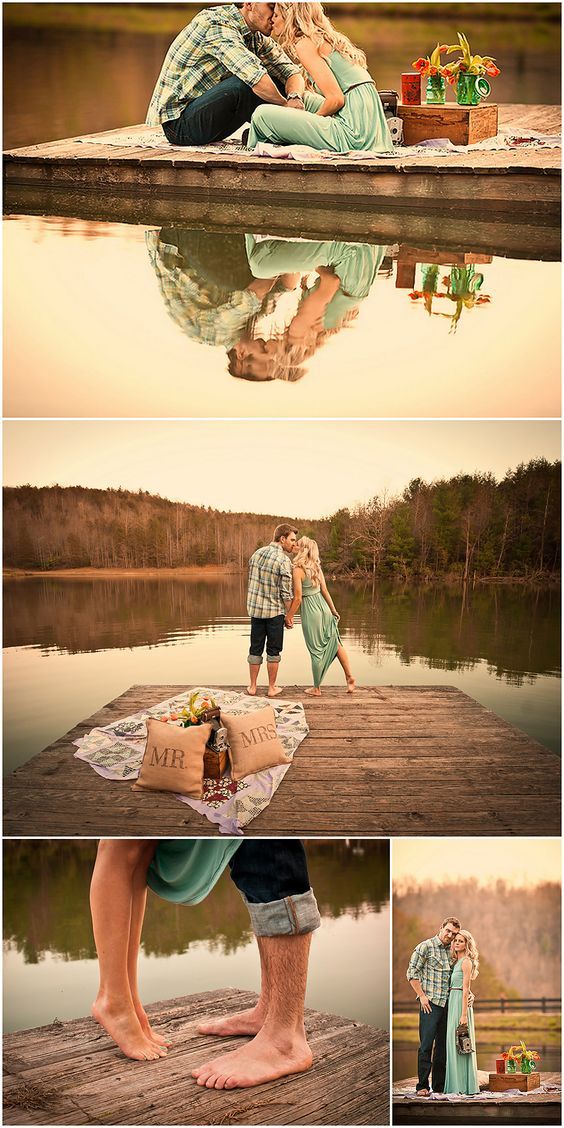 30. Silhouette
– For a dramatic couple pose, plan your shoot around the time of day when a silhouette is possible. Tell your photographer beforehand that you'd like this!
31. Zoomed In
– Focus on any specific detail that is important to you.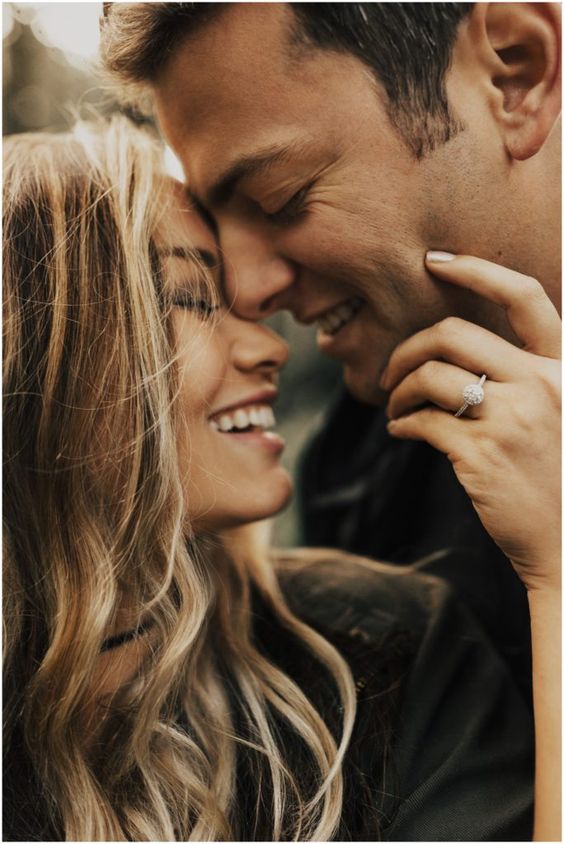 32. Foot Pop 
– This is a romantic picture cliché, but it's adorable, so go for it!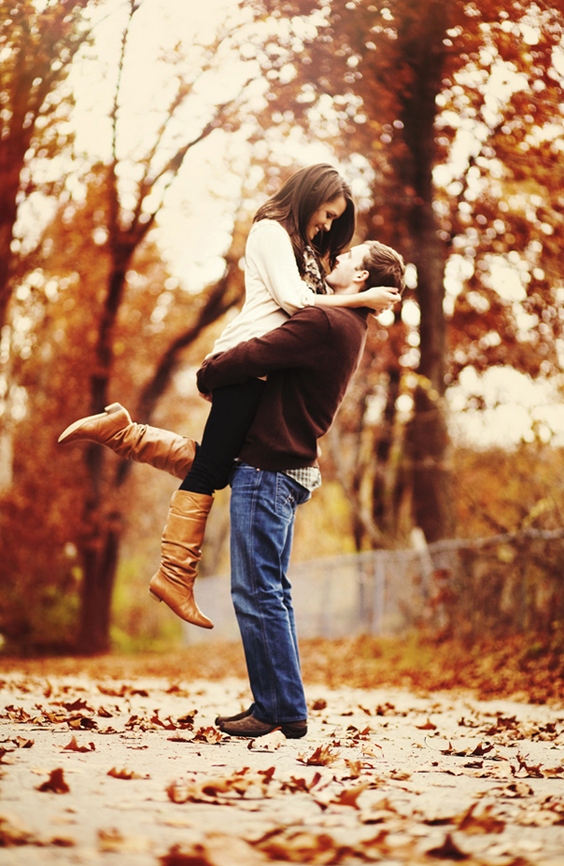 33.Staring Contest 
– Who will win? Look deep into each others' eyes.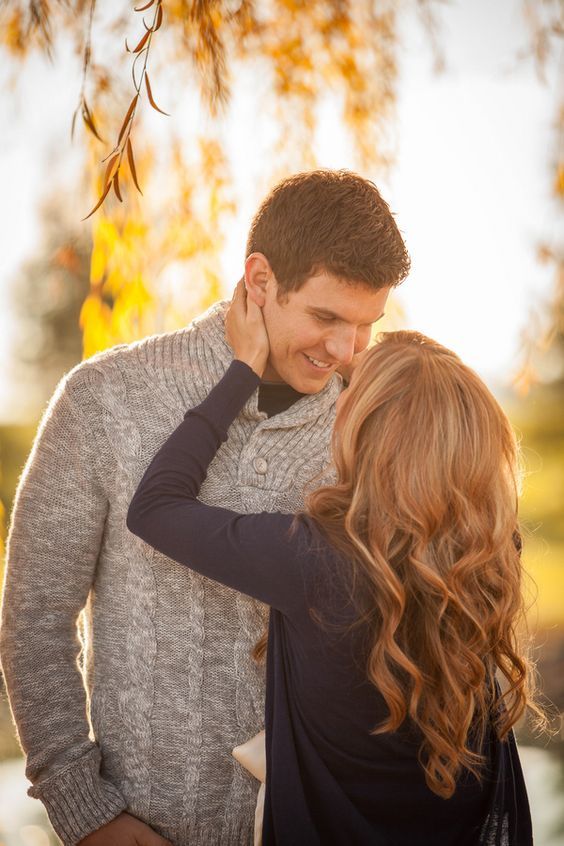 Propos for Your Engagement Photos
1. Canoe
– Take a lap around the lake in a sweet canoe.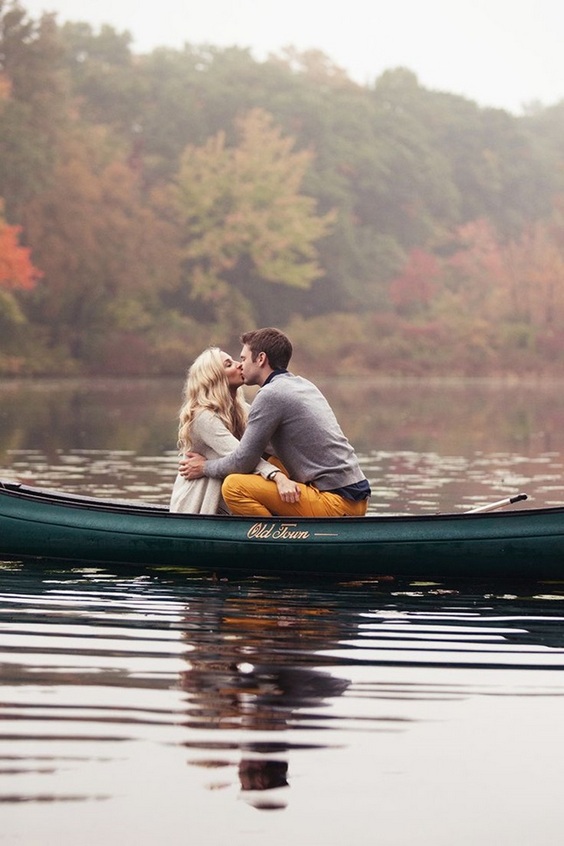 2. Letters
– These large letters can be found at your local craft store or online.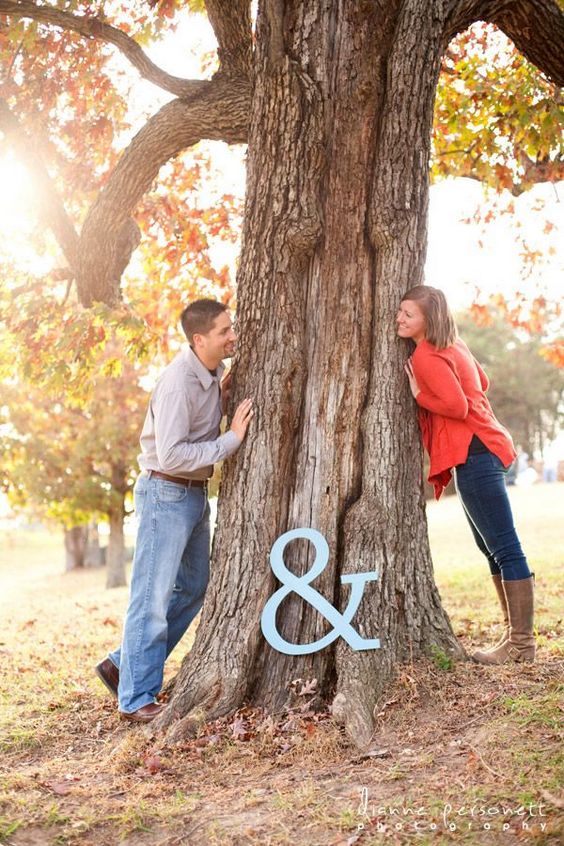 3. Lights
– Twinkle lights or candles can provide a romantic glow.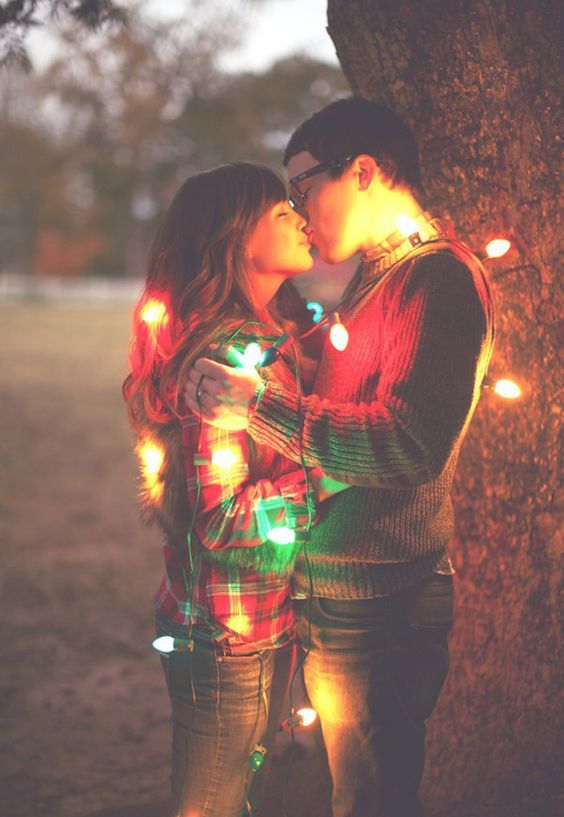 4. Blanket
– Cozy up on a blanket, or wrap together.