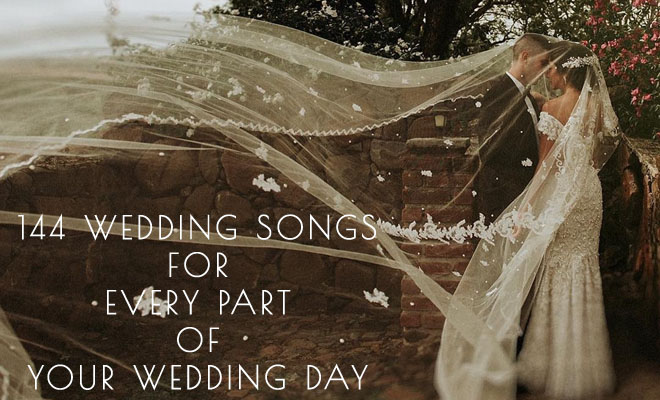 Music is one of the most important elements for a successful wedding. It sets the tone for either an elegant and romantic affair, or a lavish, wild party.
Our Ultimate Guide to Wedding Music and Wedding Songs will help you to set your wedding to music.
When you think about it, wedding music has to cover a lot of ground.
From the very beginning of events at the ceremony and the processional, then the first dance, then the rest of the reception.
You'll remember these songs forever, so make 'em count.
Classic Wedding Processional Songs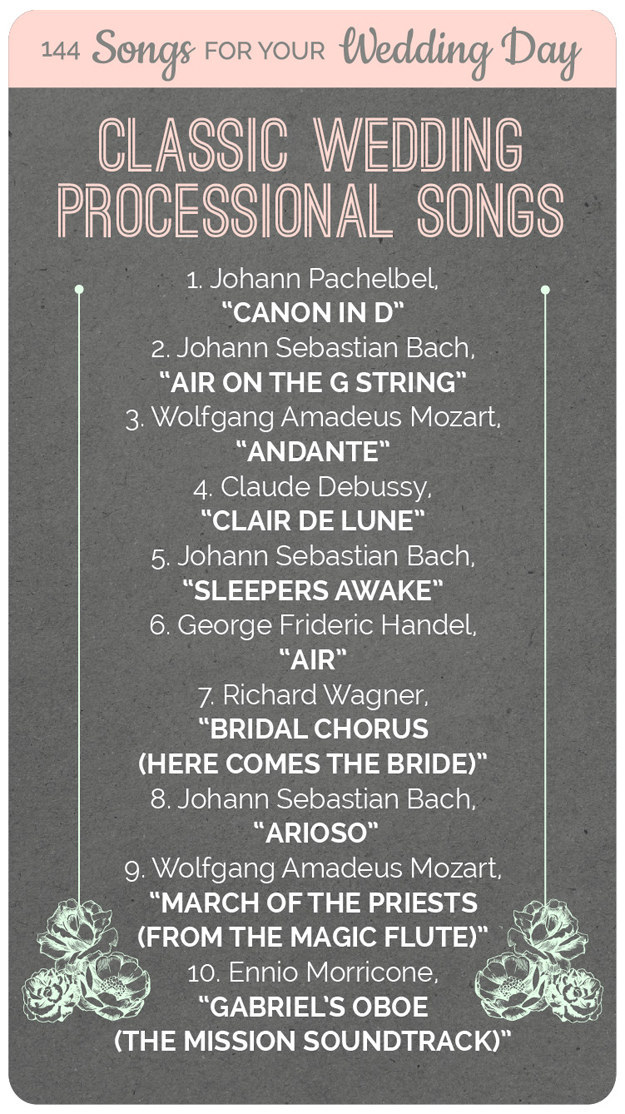 1. Johann Pachelbel, "Canon in D"
2. Johann Sebastian Bach, "Air on the G String"
3. Wolfgang Amadeus Mozart, "Andante"
4. Claude Debussy, "Clair de Lune"
5. Johann Sebastian Bach, "Sleepers Awake"
6. George Frideric Handel, "Air"
7. Richard Wagner, "Bridal Chorus (Here Comes the Bride)"
8. Johann Sebastian Bach, "Arioso"
9. Wolfgang Amadeus Mozart, "March of the Priests (from The Magic Flute)"
10. Ennio Morricone, "Gabriel's Oboe (The Mission soundtrack)"
Unexpected Wedding Processional Songs: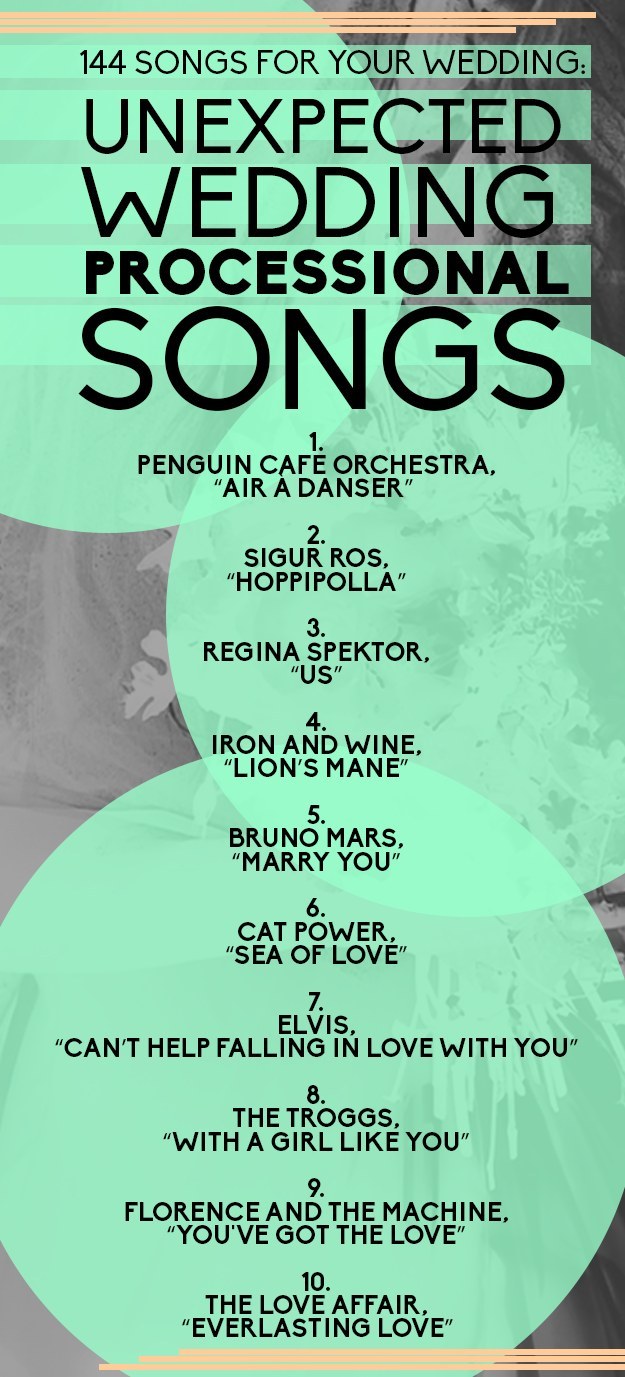 1. Penguin Cafe Orchestra, "Air à Danser"
2. Sigur Ros, "Hoppipolla"
3. Regina Spektor, "Us"
4. Iron and Wine, "Lion's Mane"
5. Bruno Mars, "Marry You"
6. Cat Power, "Sea of Love"
7. Elvis, "Can't Help Falling In Love With You"
8. The Troggs, "With A Girl Like You"
9. Florence and the Machine, "You've Got The Love"
10. The Love Affair, "Everlasting Love"
Wedding Recessional Songs: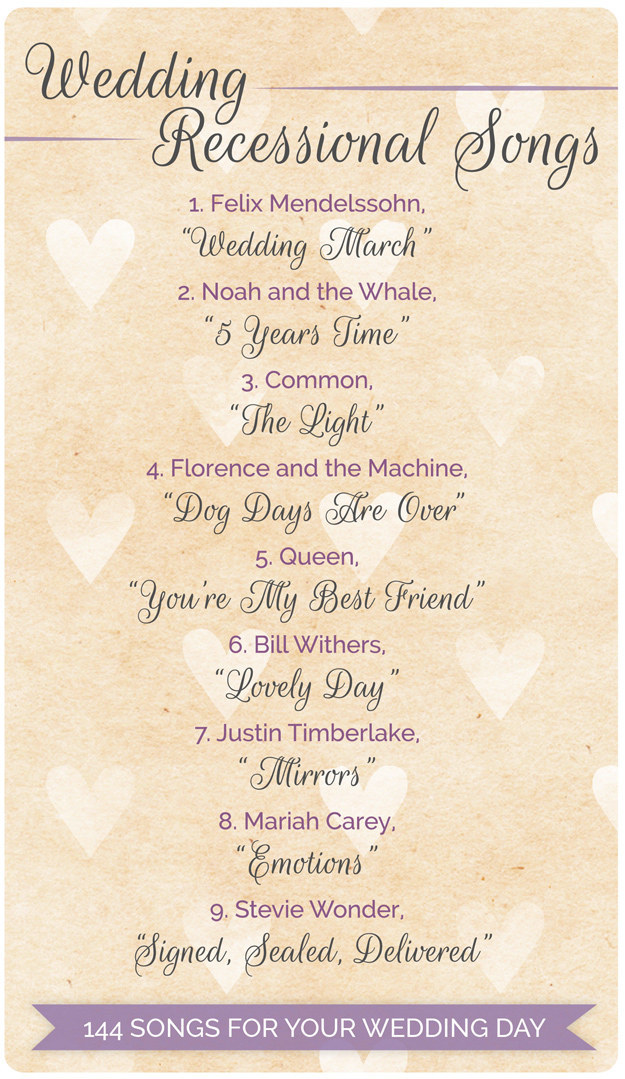 1. Felix Mendelssohn, "Wedding March"
2. Noah and the Whale, "5 Years Time"
3. Common, "The Light"
4. Florence and the Machine, "Dog Days Are Over"
5. Queen, "You're My Best Friend"
6. Bill Withers, "Lovely Day"
7. Justin Timberlake, "Mirrors"
8. Mariah Carey, "Emotions"
9. Stevie Wonder"Signed, Sealed, Delivered"